Historical Essay
Gettysburg, Battle of
Civil War Battle Summary
Enlarge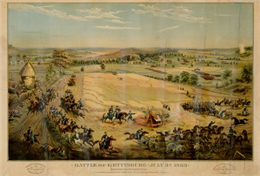 Battle of Gettysburg Advertising Poster, 1863
This solor lithographed color advertising poster showa a McCormick grain binder at the Civil War battle of Gettysburg. The poster was based on a cyclorama by French artist Paul Philippoteaux. Produced for the McCormick Harvesting Machine Company by the Central Lithography & Engraving Company of Chicago. View the original source document: WHI 3563
Enlarge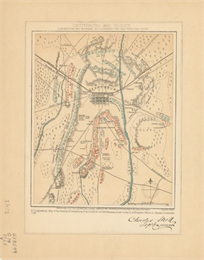 The Battle of Gettysburg, 1836.
This map of the Battle of Gettysburg indicates Union positions in red and Confederate positions in blue. Also shown are artillery positions, roads, railroads, vegetation, and streams. View the original source document: WHI 88039
Date(s): July 1-3, 1863
Location: Gettysburg, Pennsylvania (Google Map)
Other name(s): none
Campaign: Gettysburg Campaign (June-July 1863)
Outcome: Union Victory
Summary
The Battle of Gettysburg is considered one of the bloodiest and most pivotal battles of the Civil War. It marked the moment when the South had to abandon its attempt to take the war north.
During the middle of June 1863, 75,000 Confederate troops crossed the Potomac and invaded Maryland and Pennsylvania. The Union fielded more than 80,000 soldiers to try to stop them. The two sides collided accidentally on the morning of July 1st outside the town of Gettysburg, Pennsylvania and battle lines hastily developed.
Fierce fighting occurred over a wide area in and around the town for three days. When it was over the Confederates retreated with a caravan of wounded men stretching nearly 15 miles. More than 28,000 Confederates were killed, wounded, or missing. The Union lost more than 24,000. This made it the battle with the largest number of casualties in the entire American Civil War.
Wisconsin's Role
The Iron Brigade (including the 2nd, 6th, and 7th Wisconsin Infantry regiments) was in the thick of the battle on the first day. The 3rd, 5th, and 26th Wisconsin Infantry regiments and the 1st U.S. Sharpshooters, Company G (Berdan's Sharpshooters), also fought but sustained many fewer casualties.
On the morning of July 1st, the 2nd Wisconsin Infantry was the first to engage with Confederate troops. It immediately lost nearly a third of its men, among them Colonel Lucius Fairchild, whose left arm had to be amputated. On the second and third days, the remaining Iron Brigade units were generally kept away from the front lines. Over the course of the battle they lost a total of 578 men.
The 26th Wisconsin Infantry, which was composed almost entirely of German immigrants, fought throughout the first day and lost more than 210 of its men. The 3rd and the 5th Wisconsin Infantry regiments arrived late in the battle and saw less action than the other Wisconsin regiments. Berdan's Sharpshooters were instrumental in repulsing Confederate attacks, including Pickett's Charge on the third day.
Links to Learn More
[Source: Report on the Nation's Civil War Battlefields (Washington, 1993); Estabrook, C. Records and Sketches of Military Organizations (Madison, 1914); Love, W. Wisconsin in the War of the Rebellion (Madison, 1866).]