Historical Essay
Stones River, Battle of
Civil War Battle Summary
Enlarge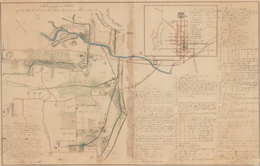 Topographical Sketch of the Battle-field with Stone River, 1862
Murfreesboro, Tennesse. This map is a hand-colored, pen and ink, drawing by Ole R. Dahl of Co. B, 15th Wisconsin Infantry that shows the battlefield at Stones River. It depicts roads, streams, vegetation, and relief by hachures. The inset features a topographical sketch of the city of Murfreesboro Ten., Rutherford County. View the original source document: WHI 90782
Enlarge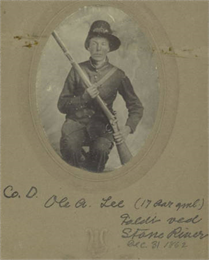 Ole A. Lee, 1862.
Portrait of Civil War soldier Ole A. Lee, 15th Infantry Company D, who was killed at Stone's River, Tennesse on December 3, 1862, at the age of 17. View the original source document: WHI 28290
Date(s): December 31, 1862-January 2, 1863
Location: near Murfreesboro, Tennessee (Google Map)
Other name(s): Murfreesboro
Campaign: Stones River Campaign (December 1862-January 1863)
Outcome: Union victory
Summary
The Battle of Stones River had a higher percentage of casualties than any other major Civil War battle — 38 percent of combatants were reported killed, wounded, or missing at the end of the battle. The battle also solidified Union control over middle Tennessee.
By the fall of 1862, Union armies occupied the western half of Tennessee. Confederate troops had retreated to middle Tennessee at Murfreesboro, a rich agricultural area, after their defeat at the Battle of Perryville. Union troops advanced on Murfreesboro on December 31, 1862. About 41,000 Union soldiers faced off against 38,000 Confederates in driving rain, sleet, and fog. The two sides traded control of the battlefield for three days until they both withdrew and the Union took control of the city. The rich farmland meant to feed the Confederates now supplied the Union.
Wisconsin's Role
Nine Wisconsin units were involved at Stones River: the 1st, 10th, 15th, 21st, and 24th Wisconsin Infantry regiments and 3rd, 5th, 8th, and 10th Wisconsin Light Artillery batteries.
The 1st Wisconsin Infantry was held in reserve. The bravery of the 10th led one general to comment that they "would have suffered extermination rather than have yielded their ground without orders." The 15th won a citation from Union commanders "for bravery and coolness under fire" on the first day. Both the 10th and 15th fought only on the first day because they lost so many men they could not continue. The 21st was in the forefront all three days. The 24th lost nearly 40 percent of its men and almost all its officers.
Links to Learn More
[Source: Report on the Nation's Civil War Battlefields (Washington, 1993); Estabrook, C. Records and Sketches of Military Organizations (Madison, 1914); Love, W. Wisconsin in the War of the Rebellion (Madison, 1866).]