Historical Essay
Dawes, Col. Rufus R. (1838-1899)
Wisconsin Civil War Officer, Author
Enlarge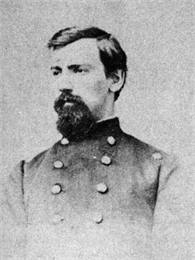 See more images from Lieutenant Colonel R. R. Dawes. View the original source document.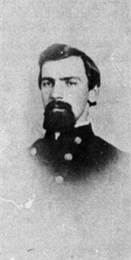 b. Malta, Ohio, July 4, 1838
d. Marietta, Ohio, August 1, 1899
Rufus Dawes left some of the most vivid accounts of the Iron Brigade in his diary, letters, and memoir. Chosen captain of a Juneau County company in 1861, Dawes rose through the ranks to command his entire regiment during the Civil War's most famous battles.
Early Years
Dawes was born in Ohio but came to Mauston, Wisconsin, with his father and his brother in 1855. He spent his teenage years shuttling between Wisconsin and Ohio. He attended the University of Wisconsin briefly, graduated from Marietta College in 1860, and returned to Wisconsin after getting his degree.
Civil War Service
When the war broke out in April 1861, 22-year-old Dawes raised a volunteer company of lumberjacks in Juneau County. They were known as the Lemonweir Minute Men and were mustered into service in June at Camp Randall as Co. K, 6th Wisconsin Infantry. Unlike most new recruits, Dawes's company signed up for the duration of the war rather than only the required 90 days. Dawes gradually became an important leader in the famous Iron Brigade.
During the war, he wrote letters and kept a detailed diary describing the battles of South Mountain, Antietam, Second Bull Run, Gettysburg, and many less famous engagements. He also recorded his feelings and moods, and included details about daily camp life and individual soldiers. He was brevetted as a brigadier general for meritorious service in March 1865.
Postwar Years
When his term of enlistment expired in 1864, Dawes went home to Marietta, Ohio, where he became a successful business owner and a trustee of Marietta College. In 1875 he began writing a memoir of the Civil War, using his diary and letters as primary sources.
His health began to fail in 1889 and he spent the last decade of his life growing progressively weaker. He died on August 1, 1899, at his home in Marietta, Ohio, and is buried in Oak Grove Cemetery.
Links to Learn More
[Source: Dawes, Rufus. Service with the Sixth Wisconsin Volunteers (Marietta, Ohio, 1890); Dictionary of American Biography.]