Historical Essay
Pierce, Hettie, 1829-1944
Madison's Oldest Resident
Enlarge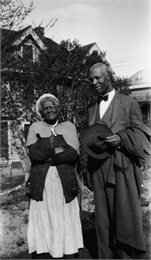 Samuel S. Pierce and His Mother, 1929
Samuel S. Pierce, (1870-1936) posing with his mother, Hettie (Starks) Pierce (1829-1944). Hettie was 115 when she died. Hettie, Samuel, his wife Mollie, and their son Theodore moved into the house at 1438 Williamson Street in 1910; the house number was changed in 1941 to 1442 Williamson. Theodore Pierce (1906-1999) was actually Sam and Mollie's nephew, but they raised him as their son. View the original source document: WHI 37458
Born into slavery in North Carolina on January 1, 1829, Hettie Pierce of 1442 Williamson Street in Madison, Wisconsin, personally experienced the social upheavals that most of her neighbors had only learned about in school.
Didn't Sell
Before the Civil War, she had always belonged to the same family who had also owned her parents. "I was never sold at auction or any other way," she recalled. "The man I belonged to didn't sell people. He was a fine man." Besides, she said proudly, "No one in my family was ever sold. They wouldn't ever part with us because we did our work so good. I think hard work is good for anyone."
Her family moved to Freeport, Louisiana, when she was a child and there she later met and married John Pierce, another slave, in 1857. When emancipation came at the end of 1863, "It was a big excitement. I was happy because I knew that at last the good Lord had opened a new door for my people." But it also meant turmoil, as life in the South turned upside down. She and her husband wandered from state to state with her former owner, who agreed to pay them $50 for two years of work but was unable to. She kept his I.O.U. for decades.
Northern Roots
Enlarge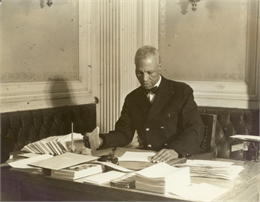 Samuel Pierce at Executive Offices of Governor, ca. 1930
Samuel Pierce is seated at a desk in the executive offices of the Governor. View the original source document: WHI 37461
Eventually the Pierce family returned to Louisiana. Hettie bore 11 children altogether, and her husband was elected to the state legislature and later became a judge in New Orleans. Her son Samuel worked the Chicago to Los Angeles run as a Pullman porter for many years. In 1908 he was assigned to the Milwaukee-Madison route and brought his wife, son and mother with him. Samuel Pierce later worked at the Capitol from the Progressive era into the 1930s as personal messenger for governors Blaine, Zimmerman, Kohler and LaFollette.
In 1924, when she was 95, Hettie Pierce journeyed alone from Madison through the South to try to visit all her grandchildren. There were more than 50 of them, however, and she returned north without finding them all.
Long Life
She remained in good health, outliving all her children and becoming the oldest resident of Madison and Dane County. During World War II, when she could no longer follow the news herself, she asked her grandson every day if "they had ended their warfare" yet, since she had witnessed so much devastation from war. In 1932 she told reporters, "I've been in Madison for 25 years, and I like it, so I reckon I'll be here for 10 years more." In fact, she lived long enough to celebrate her 115th birthday on January 1, 1944.
Learn More
See more images, essays, newspapers and records about Williamson St.