Historical Essay
Newhall House Hotel Fire
The Tragedy of January 10, 1883
Enlarge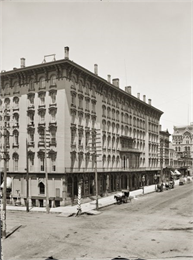 Newhall House, ca. 1880
Elevated view of Newhall House. A number of horse-drawn vehicles are parked along the curb. Milwaukee, Wisconsin. View the original source document: WHI 7466
At 4:00 am on the morning of January 10, 1883, passersby saw flames shooting from one of Milwaukee's landmarks. Built by merchant Daniel Newhall in 1856 as one of the nation's most magnificent hotels, the Newhall House was still fashionable, though somewhat down at the heels. The Milwaukee fire department considered it a tinderbox and was hardly surprised when the fire was discovered.
A Flaming Strawstack
"We saw the flames breaking through the roof as we left the station," recalled firefighter Sam McDowell. "By the time we reached the hotel, the building was like a flaming strawstack. Men and women could be seen at their windows, shouting for help, screaming in despair."
The fire broke out in the elevator shaft and consequently raced upward through the entire building before guests could escape. Ladders of some firefighters got caught in the new-fangled electric lines downtown and never reached the building. Others could not stretch to the upper floors. Many guests trapped by the inferno behind them chose to leap to their deaths in the street below. One rescuer named Hemann Strauss laid a ladder from an upper window across an alley to an adjacent rooftop and made repeated trips over this makeshift bridge carrying unconscious servants overcome by smoke.
Some Guests Saved
Enlarge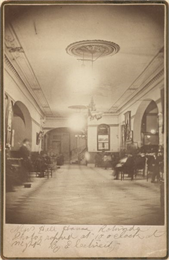 Newhall House Rotunda, ca. 1881
Interior view of lobby area with several people sitting in chairs. Manuscript notations on the mount makes much of the fact that it was photographed at night by electric light and adds ambiguously "the first electric illumination." View the original source document: WHI 54277
The guests that night had included P.T. Barnum circus stars General and Mrs. Tom Thumb in a sixth floor room. A firefighter named O'Brien managed to get a ladder up to them and holding the tiny couple under one arm and grasping the swaying ladder with the other, made his way cautiously down through the flames to safety.
Similar acts of bravery saved many guests. The hotel register was destroyed, so it is not definitely known how many people were in the Newhall House that night. At least seventy-six bodies were pulled from the charred remains over the next several days. Some estimated that up to 90 people had died. It remained the most deadly hotel fire in U.S. history for many decades.
For more on Wisconsin disasters, consult "The Wisconsin Centennial Story of Disasters and Other Unfortunate Events."
Learn More
See more images, essays, newspapers and records about Newhall House.