Historical Essay
World Famous Duncan Butterfly Yo-Yo
Wisconsin Historical Museum Object – Feature Story
Enlarge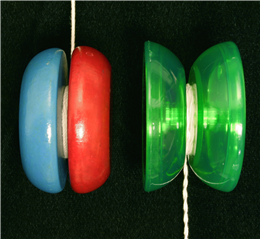 Yo-yos side-by-side
Duncan introduced the "butterfly" shape (above right) by simply reversing the halves of a traditional "Imperial" yo-yo (above left). The butterfly allows the player to catch the yo-yo on the string easily allowing for better tricks. Both types are still produced today. Source: Wisconsin Historical Museum object #s 1978.404.42 & 2001.83.13
Enlarge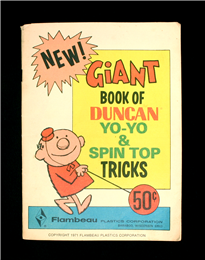 Flambeau Plastics Corporation catalog, 1971
A Flambeau Plastics Corporation catalog from 1971 included dozens of illustrated explanations of yo-yo tricks including the famous "Walk the Dog" and others like "The Elephant," "The Creeper," and "Threading the Needle." Source: Wisconsin Historical Museum object #2001.83.13
Duncan Butterfly yo-yo manufactured by the Flambeau Corporation, Baraboo,
Wisconsin, 1988-1995.
(Museum object #2001.83.13)
Did you know that one of the world's most famous toys, the Duncan yo-yo, was produced in Wisconsin for most of its existence? The Duncan Company, desiring better access to Wisconsin's hard maple timber resources, built a plant in Luck, Wisconsin in 1946 producing millions of wooden yo-yos for children around the world. Years later the Flambeau Products Corporation of Baraboo, Wisconsin purchased the Duncan brand and continued to make plastic yo-yos in Wisconsin until the late 1990s. This Duncan Butterfly yo-yo was used as a prop in television promotions for the Wisconsin Lottery around the years 1988-1995.
Yo-yos date back to ancient Egypt, but the Duncan story began in Santa Monica, California in the 1920s. Philippine immigrant Pedro Flores worked as a hotel bellhop and liked to play with his "yo-yo," which meant "come, come" in his native language. Seeing that guests enjoyed watching him play, Flores decided to open a yo-yo factory in 1929 becoming the first mass producer of the toy. The next year Donald Duncan, founder of Good Humor ice cream, saw great potential in the toy and purchased Flores' business. Two years later, Duncan was awarded the trademark for the word "yo-yo."
Duncan's yo-yo incorporated the slip string, consisting of a sliding loop around the axle instead of a knot used on previous yo-yos. This allowed the yo-yo to spin or "sleep" on the axle. Instead of only spinning up and down, the yo-yo was now capable of doing a far greater number of tricks. Duncan promoted his new and improved toy through creative marketing efforts, and the yo-yo became a huge hit during the 1930s.
In 1946 Duncan built a factory in Luck, Wisconsin, an area rich in hard maple. The factory cranked out 3,600 yo-yos per hour using millions of board feet thus earning tiny Luck the nickname, "Yo-Yo Capital of the World." The toy industry changed, though, with the increased use of plastics in toy manufacture, and yo-yos were no exception. In 1955 Duncan contracted with Flambeau Products Corporation in Baraboo to make the first plastic yo-yos. By 1962, the Duncan Company alone sold a record 45 million yo-yos.
Competing manufacturers fought for the right to use the word "yo-yo" to describe their toys, and in 1965 the Federal Court of Appeals ruled that Duncan's trademark for the word "yo-yo" was no longer valid. The long court battle coupled with diminishing profits forced the company to declare bankruptcy three years later. The Flambeau Products Corporation bought the name "Duncan" and all that company's trademarks. Soon after, Flambeau began producing its own line of all plastic yo-yos. Today, they manufacture the eleven different models of Duncan yo-yos at their Columbus, Indiana plant.
Learn More
Have Questions?
For more information or to purchase an image of one of the objects featured in Curators' Favorites, contact our staff by email below:
museumcollections@wisconsinhistory.org
[Sources: Oliver, Valerie. "History Of The Yo-Yo," (Spintastics Skill Toys, Inc., 1996); Bellis, Mary. "The History of the Yo-Yo" (Or What Goes Up Must Come Down); Duncan Yo-Yo website.]
JEK
Posted on March 29, 2007