Historical Essay
Potawatomi Beaded 'Soldier Coat'
Wisconsin Historical Museum Object – Feature Story
Enlarge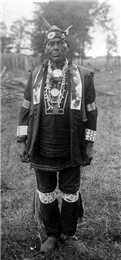 Chief Simon Onanguisse Kahquados, 1920s
Chief Simon Onanguisse Kahquados wearing his beaded coat, and other regalia at an unknown event in the 1920s. Source: WHI-24374 View the original source document: WHI 2437
Enlarge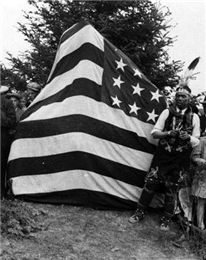 Unveiling of Chief Kahquados's grave marker, 1931
The unveiling of Chief Kahquados's grave marker in Peninsula State Park, Door County, Wisconsin, in 1931. View the original source document: WHI 33301
Army jacket decorated with Native American beadwork worn by Chief Simon Onanguisse Kahquados of the Forest County Potawatomi.
(Museum object #1943.330)
An elder spokesman for the Potawatomi Indians, Chief Simon Onanguisse Kahquados made a number of trips to Washington, D.C. in the early twentieth century in an effort to regain land that his people had lost through treaties with the United States government in the 1800s. Kahquados wore this coat on his last trip to Washington and also wore it on other important occasions, such as trips to the state capital in Madison where he often spent time researching and presenting information about his ancestry.
It is not known how Kahquados originally acquired this coat or specifically who created the beadwork that was added to it. The 1902 model general officer's jacket, however, does yield its original owner's name. Sewn into the inside pocket of the coat is a tag reading "Gen. G.L. Gillespie USA June 1903." George Lewis Gillespie fought in the Civil War where he earned a Congressional Medal of Honor. Later Gillespie rose through the ranks of the Army, temporarily served as Acting Secretary of War in 1901, and eventually reached the rank of major general in 1904. It is possible that Gillespie personally presented the jacket to Kahquados during one of his Washington visits.
Chief Kahquados was the last hereditary descendant in a long line of Potawatomi chiefs, his family being one of the oldest known Potawatomi inhabitants of Wisconsin. Chief Onanguisse, one of Kahquados's ancestors, was said to have saved explorer Robert LaSalle's life when he found him starving in the forests of the Upper Great Lakes in the 17th century.
An engaging speaker, Kahquados often served as an interpreter and provided a wealth of information to the Wisconsin Historical Society regarding traditional Potawatomi culture and history. Having taught himself to write English, he frequently sent letters from his home in Blackwell, Wisconsin to the Society's Museum Director Charles E. Brown requesting information about land rights of the Potawatomi and also humbly requesting other assistance for his people.
In 1927, a totem pole honoring the Potawatomi as the early inhabitants of Door County was dedicated in Peninsula State Park. Chief Kahquados presided over the two-day long event which included ceremonial singing, dancing, a bonfire, and athletic events.
After an extended illness, Chief Kahquados passed away on Thanksgiving Day in 1930 at the home of William Towa, near Wabeno, Wisconsin. Sadly, while he counted many influential people among his friends and acquaintances, in his last days Chief Kahquados lived in poverty, subsisting on a mere $10 per month government allowance.
Prior to his death, Kahquados had requested to be buried near his ancestors in Door County. The Wisconsin Conservation Commission granted special permission for his request and, through coordination with the Door County Historical Society, Kahquados was interred near the totem pole in Peninsula State Park that he had helped erect a few years earlier.
An estimated 15,000 people attended the burial of Chief Kahquados, which was held on Memorial Day in 1931. The burial had been delayed to allow time for the planning of the elaborate funeral and also due to weather concerns. A boulder stands as his gravemarker with the following inscription: "This Stone Marks the grave of Simon Onanguisse Kahquados Head Chief of the Potawatomi Indians. He was the last descendant of a line of Chiefs who ruled over the Door County Peninsula for many centuries he was born May 18, 1851, and died Nov. 27, 1930 A true and worthy Indian."

After his death, this "soldier coat" as well as other articles belonging to Chief Kahquados were purchased from the executor of his will by one of the Chief's many friends, Charles E. Broughton. The coat was valued at $100 in 1930, a rather substantial amount of money at that time. Recognizing the Chief's significance to Wisconsin, Broughton purchased the items with his own funds and donated them to the Wisconsin Historical Society.
Learn More
Have Questions?
For more information or to purchase an image of one of the objects featured in Curators' Favorites, contact our staff by email below:
museumcollections@wisconsinhistory.org
[Sources: Wisconsin Local History & Biography Articles, Wisconsin Historical Society; Wisconsin Department of Natural Resources website.]
DZ
Posted on November 22, 2006