Historical Essay
'Forward' Statue
Wisconsin Historical Museum Object – Feature Story
Enlarge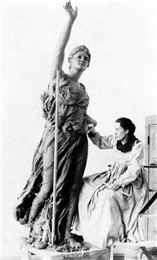 Jean Pond Miner works at her statue "Forward", 1893
Sculptor Jean Pond Miner works on her statue Forward in the Wisconsin Building at the Columbian Exposition in Chicago, 1893. View the original source document: WHI 10592
Enlarge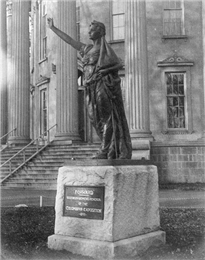 "Forward" on the grounds of Wisconsin State Capitol, 1895
"Forward" at her first home on the grounds of the Wisconsin State Capitol at its east entrance where she was installed in 1895. After this building burned in 1904, the statue was moved to the north entrance of the square in front of the new State Capitol in 1916. View the original source document: WHI 23092
In 1895 sculptress Jean Pond Miner received an unusual honor for a woman of her day: her seven-foot tall allegorical statue "Forward" was given a prominent position at the Wisconsin State Capitol. Miner completed her statue in 1893 at the World's Columbian Exposition in Chicago, fulfilling a commission to create art representative of her native state. "Forward" is an allegory of devotion and progress, qualities Miner felt Wisconsin embodied.
Miner was born in Menasha, Wisconsin in 1865 and grew up in Madison. She graduated from Downer College in Fox Lake and continued her studies at the Art Institute of Chicago. Though she had planned to become a portrait painter, her classes with famous sculptor Lorado Taft convinced her to change her emphasis. In 1893, both Taft and the Janesville Ladies Afternoon Club recommended her for an artist-in-residence position at the Columbian Exposition.
Miner created "Forward" after the fire in her studio went out one night and the cold temperature completely destroyed another statue she was just about to cast. Later, though she had originally planned to cast "Forward" in copper, her funds ran out and the statue remained in its bronze form.
A souvenir pamphlet from the Exposition described the statue as follows: "'Forward', which stands at the south end of the main lobby [of the Wisconsin building], is the work of Miss Jean Miner, of Madison, Wis., and represents a female figure standing upon the prow of a boat, the figure-head of which is 'Old Abe.' The boat is surging through the water, and the figure, poised gracefully but firmly upon the prow, stretches forth the right hand, while the left clasps the American flag to its bosom."
In 1895 the statue was placed at the east entrance of the State Capitol. In 1916, the State rededicated "Forward" and moved it to the North Hamilton Street Entrance where it remained until 1995. Unfortunately, the delicate bronze had suffered in its 100 years of outdoor exposure. Despite major conservation treatment in 1990, the prognosis for preservation of the statue out-of-doors was not favorable.
Wisconsin women, who had raised the funds for the creation of "Forward" in 1893, provided the means for the figure's long-term preservation as well. Led by Wisconsin's first lady Sue Ann Thompson and Camille Haney, women from across the state funded the creation of a bronze replica of "Forward" (now displayed at the west entrance to Capitol Square at the end of State Street) and the conservation and relocation of the original work to an indoor location at the Wisconsin Historical Society's Headquarters building, where it was installed in 1998.
Jean Pond Miner married Alonzo J. Coburn in Madison in 1896. She continued to create sculpture and worked in a studio at her son's Wilmette, Illinois residence until about a week before her death at the age of 101 in 1967.
[Sources: Peck, George W., Jr. "Ousconsin: The Badger State's Columbian Souvenir" (Milwaukee, 1893); Wilterding, Florence. "Famous Wisconsin Women, Volume 6, from the Women's Auxilary" (Madison: State Historical Society of Wisconsin, 1976).]
ALH/SFR
Posted on March 02, 2006