Historical Essay
Flu Quarantine Sign
Wisconsin Historical Museum Object – Feature Story
Enlarge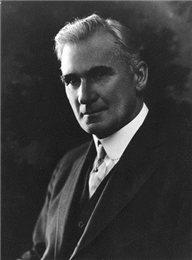 Dr. Cornelius A. Harper, ca. 1920
Dr. Cornelius A. Harper, ca. 1920. Dr. Harper served on the Wisconsin State Board of Health from 1902 through 1943, and as State Health Officer from 1904 through 1943. View the original source document: WHI 14825
Enlarge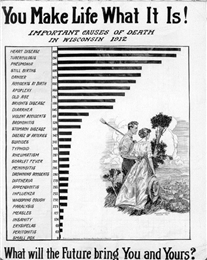 "Important Causes of Death in Wisconsin", 1912
Poster, "Important Causes of Death in Wisconsin," 1912. This poster, which was probably produced for the Wisconsin Lung Association, shows that in 1912 influenza accounted for only 255 deaths in the state, and pneumonia for another 2,066, well below the combined total of 8,459 resulting from the "Spanish flu" of 1918. View the original source document: WHI 36852
Influenza quarantine placard, c. 1910-1924, from the period of the "Spanish flu" epidemic.
(Museum object #1978.404.50)
The influenza epidemic of 1918-1919, which killed between 20 and 40 million people worldwide, did not spare Wisconsin. During the last three months of that year nearly 103,000 Wisconsinites were laid low by the disease, and 8,459 of them died of the flu or related causes, principally pneumonia. Unlike ordinary strains of influenza, the 1918 flu proved most deadly to those between the ages of 15 and 40 – ordinarily the healthiest segment of the population. Yet Wisconsin fared better than most states, and a primary factor was the role of the state government.
This quarantine sign from the era of the so-called "Spanish flu" documents both the historical event that devastated families, communities, and the state's economy, as well as a unique attitude towards public health and government authority. Wisconsin's response to the 1918 flu was the most centralized in the United States, and Wisconinites complied remarkably well with official orders.
By the time the first cases of "Spanish flu" arrived in Wisconsin, state residents had followed news reports of its devastating progress around the world for months. Wisconsin's first six cases were reported in Milwaukee on September 26, and the disease spread rapidly inland from Lake Michigan port cities. Milwaukee's first four deaths were recorded on October 2; on October 7 there were 256 new cases and nine more deaths in Milwaukee alone.
While the flu's impact was debilitating when it finally arrived, 40 years of government attention to public health bolstered Wisconsin's response. In 1876 the Wisconsin legislature had created the State Board of Health and granted it broad authority "for guarding against the introduction of contagious disease into the state, [and] for the control and suppression thereof within the state."
In 1918, the State Health Officer was Dr. Cornelius A. Harper. Appointed in 1902 by his friend Governor Robert M. La Follette, Sr., Harper was steeped in the Progressive tradition of activist state government. When the highly contagious, airborne epidemic arrived in Wisconsin, Harper was prepared to use the extraordinary powers of his office to blunt its impact.
One such power was the age-old practice of quarantining goods, animals, or people believed to be carrying contagious diseases. With no medical treatment yet available for influenza, identifying and isolating infected people was one of the few effective public health measures. Wisconsin Health officials posted signs like the one at left on buildings occupied by quarantined influenza victims in 1918.
Amid rising infection rates and death tolls, Dr. Harper took the unprecedented step on October 10, 1918 of ordering all public institutions in Wisconsin closed. This included all schools, theaters, saloons, churches, and places of public amusement statewide - virtually every public venue other than factories, offices, and workplaces. In no other state was such a comprehensive order issued, and it stayed in effect until the epidemic burned itself out in late December.
Harper's order was facilitated by a statewide system of local health officers. In 1883, the legislature had required every Wisconsin village, city and town to appoint a local public health officer and board of health, to inform the State Board and carry out its orders locally. In 1918, there were 1,685 local boards in place to implement Harper's orders. In Milwaukee, the state's largest and most crowded city, several decades of committed work by reformers and socialist politicians had created an enviable public health system supported by the public and business interests alike.
The support of business leaders, as it turned out, was crucial in making Harper's orders stick. With only a few exceptions, compliance with Harper's measures was extraordinary, as was the level of voluntarism displayed by citizens willing to risk their health for the benefit of others. In Milwaukee, idled teachers conducted a house-by-house canvass, providing health information to the sick and collecting infection statistics. In Wausau, the Federated Charities helped recruit volunteers to help with the domestic chores of stricken households. Across the state citizens stepped forward to establish makeshift hospitals, work on educational campaigns, and spell exhausted doctors and nurses.
The public's strong support of prevention and relief efforts can be attributed to several factors. First, advance awareness of the epidemic's arrival and likely severity; second, an existing ethos of self-sacrifice generated by the ongoing war effort; and third, Wisconsin's Progressive Era faith in the ability – indeed the responsibility – of government to act assertively in the civic interest.
Wisconsin's swift, comprehensive response to limit the transmission of influenza certainly saved lives. The state death rate, among the lowest in the country, was 2.91 per thousand inhabitants, compared to a national average of 4.39. Although Wisconsin's death rate was highest in rural areas (which often lacked adequate health care and volunteer resources) and in crowded urban areas, Milwaukee had one of the lowest rates for any city its size.
Today it is virtually inconceivable that public activities throughout an entire state could be shut down for several months on the word of a single unelected bureaucrat. Nevertheless, in the fall of 1918 most Wisconsin citizens endorsed and selflessly supported such a measure.
Learn More
A very informative website created by Stanford University
Have Questions?
For more information or to purchase an image of one of the objects featured in Curators' Favorites, contact our staff by email below:
museumcollections@wisconsinhistory.org
[Sources: Details for this article are drawn from Steven Burg, "Wisconsin and the Great Spanish Flu Epidemic of 1918," originally published in the "Wisconsin Magazine of History," 84:1 (Autumn 2000). Stanford University website: The Influenza Pandemic of 1918.]
DBD
Posted on January 12, 2006