Historical Essay
Frank Lloyd Wright Furniture
Wisconsin Historical Museum Object – Feature Story
Enlarge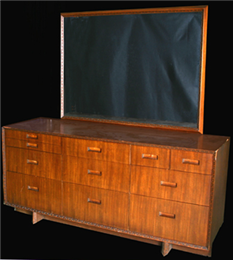 Chest of drawers designed by Frank Lloyd Wright, c. 1995
Source: Wisconsin Historical Museum object #1995.2.2.1-.2
Enlarge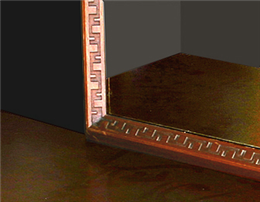 Mirror detail of "Taliesin Line" chest, c. 1995
Border detail of the mirror from "Taliesin Line" chest showing the modified Greek key motif that was also used along the front border and legs of the chest. Source: Wisconsin Historical Museum object #1995.2.2.1-.2
Enlarge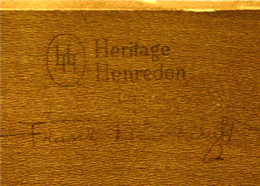 Heritage Henredon Industries trademark and facsimile of Frank Lloyd Wright signature, c. 1995
Heritage Henredon Industries trademark and facsimile of Frank Lloyd Wright's signature burned into the inside of one of the chest's drawers. Source: Wisconsin Historical Museum object #1995.2.2.1-.2
Chest of drawers with mirror designed by Frank Lloyd Wright for commercial market, c. 1955.
(Museum object #1995.2.2.1-2)
Built by the Heritage-Henredon Furniture Industries of Morganton, North Carolina, this Frank Lloyd Wright designed chest of drawers with mirror dates to 1955-1956. Constructed of Honduran mahogany with mahogany veneer, it represents just one of the approximately 61 pieces of the "Taliesin Line," an ensemble named after Wright's personally designed home in Spring Green, Wisconsin.
Much of Wright's notoriety as a designer resulted from an unfaltering adherence to his unique design philosophy. Nurtured by a childhood spent amongst the rural prairies and fields of Spring Green, his organic designs derived largely from nature. While Wright focused the majority of his career on architecture, designing buildings and homes complete with custom furnishings that complemented his vision, Wright made a controversial move late in his career when he joined forces with the home furnishings industry to bring his work to a larger audience.
Beginning in the mid-1950s, Wright offered his talents to three commercial firms to design products for the home, including furniture, wallpaper, paints, and textiles. Unlike fellow design reformers of the day who focused on small-scale manufacturing efforts, Wright never shunned machinery or mass production, believing its power could be properly harnessed and used as an effective means to bring good design to the general population. Nonetheless, Wright's foray into mass commercialism caused many to question his motives. Some critics believed Wright's action was the result of economic need, while others thought it simply an egotistically driven desire for recognition.
Stylistically, the "Taliesin Line" was considered quite conservative compared to Wright's initial avant-garde furniture lines, "The Burberry," "The Four Square," and "The Honeycomb," which had garnered less popular interest than expected. Though the "Taliesin Line" was a modified version of these earlier offerings and intended to be more appealing to the public, many considered its design difficult to coordinate with other styles of the day. Heritage-Henredon also poorly marketed the line, which translated into disappointing sales figures. As a result, Wright did not continue his contract with the company in 1956. Like his innovative architecture, Wright's venture into modular furniture styles for the masses seems to have proved premature for the general public.
[Source: Boyd, Virginia T. "The House Beautiful: Frank Lloyd Wright for Everyone," Elvehjem Museum of Art Annual Report, 1987-88.]
Learn More
Have Questions?
For more information or to purchase an image of one of the objects featured in Curators' Favorites, contact our staff by email below:
museumcollections@wisconsinhistory.org
Posted on June 02, 2005