Historical Essay
Civil War Silver
Wisconsin Historical Museum Object – Feature Story
Enlarge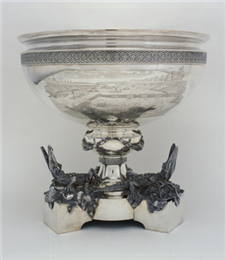 Tiffany punch bowl presented to Wisconsin's Joseph Bailey
Source: Wisconsin Historical Museum object #1965.228.1,A
Enlarge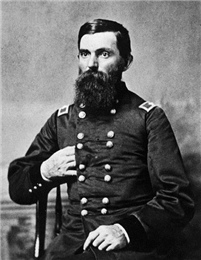 Bridgadier General Joseph Baley, c. 1864
Joseph Bailey after his promotion to Bridgadier General, c. 1864. View the original source document: WHI 31815
Enlarge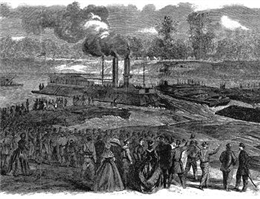 Illustration on Bailey's silver bowl, 1864
Vessel from Admiral Porter's fleet escaping through Bailey's Dam along the Red River as depicted in Frank Leslie's Illustrated Newspaper, July 16, 1864. Source: Detail from original
Tiffany punch bowl presented to Wisconsin's Joseph Bailey in honor of his service during the Civil War.
(Museum object #1965.228.1,A)
The ingenuity of Wisconsin's Lieutenant Colonel Joseph Bailey saved a stranded Union fleet during the Red River Campaign in the Civil War. As a result of his efforts, Bailey became a national hero, was promoted to the rank of Brigadier General, and received this lavish silver punch bowl by Tiffany & Co. from his fellow officers.
In the spring of 1864, Union forces attempted to seize control of Texas and its valuable cotton resources. First, though, commanders desired to capture Shreveport, Louisiana. Army units marched on Shreveport while Union naval forces under Rear Admiral David Porter traveled up the Red River. On land the army met strong resistance as the determined Confederates repelled the attack. As a result, Porter decided to turn his ships around and retreat to the Mississippi River. Due to unseasonably low water, however, the fleet became stranded at the falls above Alexandria, Louisiana. With encroaching Confederate forces and diminishing supplies, the fleet faced the danger of capture and destruction.
Lieutenant Colonel Joseph Bailey, a Wisconsin lumberman and engineer before the Civil War, convinced Union commanders to execute his plan to dam the Red River which would raise the water level and allow the vessels to escape over the falls. Under Bailey's supervision, construction began on April 30, 1864. Led by ex-lumberjacks of the 23rd and 29th Wisconsin regiments, Union soldiers hastily constructed a series of crude dams in less than two weeks. When the water level rose enough to allow safe passage, the dam was breached. On May 12th, the last Union ship cleared the falls and sailed for the safety of the Mississippi River. Even though the Red River Campaign failed, Bailey's ingenuity saved the North from a far greater loss.
Bailey received this Tiffany punch bowl sometime between the Red River episode and his death in 1867. It is believed that grateful officers contributed part of their pay in silver coinage to be melted down for the creation of the bowl. An intricate engraving on one side depicts the Red River scene while the reverse carries the inscription, "Presented to Brigadier General Joseph Bailey by Rear Admiral Porter and The Officers composing the Red River Expedition as a mark of their esteem and as a memento of an event so creditable to the skill and energy of General Bailey. The Construction of the dam which saved to the nation a valuable squadron."
The incorporation of snapping alligators was likely a custom design as they are not a common motif on Tiffany silver or punch bowls. Alligators lived along the Red River and some accounts mention dead alligators floating by in the river during construction of the dam. It is likely that the presence of alligators was a notable obstacle for the soldiers of Wisconsin during their work.
JEK
Learn More
Have Questions?
For more information or to purchase an image of one of the objects featured in Curators' Favorites, contact our staff by email below:
museumcollections@wisconsinhistory.org
Posted on May 26, 2005