Historical Essay
1960s Prom Dress
Wisconsin Historical Museum Object – Feature Story
Enlarge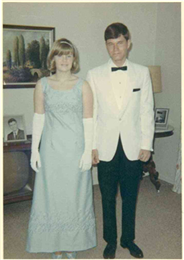 Marti Hall and Jim Wilson, 1966
Marti Hall and Jim Wilson pose at Mart's home prior to the 1966 spring prom. Source: Image courtesy of Marti Hall
Dress worn by Marti Hall to the spring prom at Madison West High School in 1966.
(Museum object #2004.135.1)
After being invited to West High School's senior prom in Madison, Wisconsin by Jim Wilson, Martha "Marti" Hall set out to choose a dress, one of the biggest decisions in her young life. She decided to make her own gown, driving 45 minutes to New Glarus for the fabric.
At Swiss Miss Fabrics, an outlet for a lace factory and one of the best fabric stores in the region, Marti chose this unique ice blue embroidered fabric. On the night of the big event her parents, like many others before and since, photographed the couple in their living room. After holding on to these souvenirs of her adolescence for over thirty-five years, Marti decided to donate them to the Wisconsin Historical Society in 2004.
Prom night has been a major rite of passage for American teenagers since the early twentieth century, though it did not become universally popular until the 1930s. In the nineteenth century, high school had been a privilege of the middle and upper classes. During the early years of the twentieth century more working class parents felt they could afford to live without their adolescent children's wages and let them attend high school to better their lives.
Historians have argued that as working class students entered high schools, administrators saw school government, clubs, and dances as a way to socialize them to middle class values and practices. At the same time the new science of psychology suggested that adolescence was a unique stage of life and that adolescents, full of angst and uncertainty, needed guidance into adulthood. Proms provided one necessary right of passage as it encouraged teenagers to dress up and act like adults, often for the first time in their lives.
By the time Marti Hall wore this dress to her senior prom in 1966, however, the prom's popularity was about to wane as high school students began to rebel against the establishment. Not until the late 1970s, when a conservative mood reasserted itself, would most high school students again become seriously interested in proms.
[Source: Best, Amy L. Prom Night: Youth, Schools, and Popular Culture (New York: Routledge, 2000).]
LAB
Learn More
Have Questions?
For more information or to purchase an image of one of the objects featured in Curators' Favorites, contact our staff by email below:
museumcollections@wisconsinhistory.org
Posted on May 19, 2005