Historical Essay
Birchbark Maple Sugar Container
Wisconsin Historical Museum Object – Feature Story
Enlarge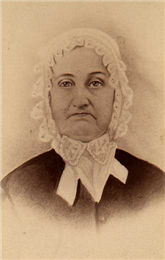 Rosalie Dousman, c. 1860
Rosalie Dousman, c. 1860. Source: WHI (x3) 29350 View the original source document: WHI 71567
Maple sugar container made by missionary Rosalie Dousman, mid-1800s.
(Museum object #1969.419)
This sugar container, made from birchbark and decorated with porcupine quills, celebrates the traditional Menominee tribe springtime activity of making maple sugar. It was crafted in the Menominee style in the mid-1800s and still holds preserved maple sugar processed 150 years ago.
Maple sugar making occurs for several weeks each spring when the maple sap runs in the trees and is tapped for processing into sugar. An important product for the Menominee and other Wisconsin Native American tribes, sugar was a basic seasoning for grains, breads, stews, teas, berries and vegetables. Making maple sugar is labor intensive because the process requires boiling down 30-40 gallons of sap to produce a mere three quarts of maple sugar. Once processed, however, the sugar can be preserved in containers such as this one for use during the rest of the year.
This small birchbark container (shown with dime for scale) was made by Rosalie Dousman, a Catholic missionary to the Menominee, in the mid-1800s. She decorated her birchbark container with porcupine quillwork, an art form she most likely learned from the Menominee during her mission work. To produce the final product, the quills are harvested from a porcupine and then dyed, folded, twisted, plaited, and sewn into the birchbark using traditional tools and techniques.
Quillwork represents one of the oldest forms of Native American embroidery. It flourished among the Menominee and many other Native American communities in Wisconsin and elsewhere until the mid-1800s, when glass beads became easily acquired through trade with Europe and began to replace quills in Native American art and decoration.
Born to French parents in what is now Upper Michigan in about 1794, Rosalie Laborde married John Dousman in 1808 and moved to Green Bay about two years later. After retreating to Mackinac during the War of 1812, the Dousmans returned to the Green Bay several years later and Mrs. Dousman ran Catholic mission schools for Menominee children there, at Lake Poygan, and on the Menominee Reservation at Keshena until the mid-1860s.
Dousman's obituary in the December 15, 1872, Milwaukee News reported that she was "a woman of remarkable energy of character, and among the early settlers of Wisconsin territory, as well as by all the Indian tribes from Macinac to Fort Winnebago, she was revered as a woman of saintly virtues."
DZ
Learn More
Have Questions?
For more information or to purchase an image of one of the objects featured in Curators' Favorites, contact our staff by email below:
museumcollections@wisconsinhistory.org
Posted on March 10, 2005