Historical Essay
Woman Suffrage Tunic
Wisconsin Historical Museum Object – Feature Story
Enlarge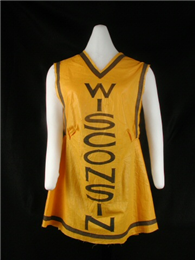 Parade tunic worn by Wisconsin suffrage supporter, 1916
Source: Wisconsin Historical Museum object #1956.1450
Enlarge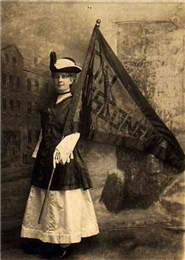 Theodora Youmans, c. 1916
Theodora Youmans, c. 1916. View the original source document: WHI 1927
Parade tunic worn by Wisconsin suffrage supporter during Republican National Convention in Chicago, Illinois, 1916.
(Museum object #1956.1450)
Led by Theodora Youmans, President of the Wisconsin Woman Suffrage Association (WWSA), Wisconsin suffrage supporters journeyed to Chicago on June 7, 1916 to support their cause during the Republican National Convention. While the Republicans had endorsed the principles of woman suffrage, they had not supported the passage of a federal constitutional amendment to ensure the enfranchisement of all citizens regardless of sex.
By 1916 Youmans felt she needed to boost the morale of the WWSA and hoped to use the parade to reenergize her organization. To help create excitement for the event, Youmans commissioned an artist to design special colorful tunics for the event. The resulting yellow garments, like this parade tunic from the Museum's collection, were sold with coordinated hats for $3.10 which included a round-trip train ticket from Milwaukee to Chicago.
On the day of the event, most of the Wisconsin contingent met in Milwaukee to march in a parade down Grand Avenue (now Wisconsin Avenue) to the railroad depot where they boarded trains for Chicago. Special "suffrage cars" from Madison, Waukesha, and Kenosha also joined the procession. Upon their arrival in Chicago, the Wisconsin group took part in a larger parade of suffragists that marched two miles down Michigan Avenue despite a driving rain and gale-force winds.
Youmans later wrote of the event, "We sent an imposing contingent to the suffrage parade in Chicago in June, 1916, when the suffrage hosts…testified to their heartfelt desire for the ballot, in presence of the delegates to the national Republican convention...Outside of Illinois, Wisconsin had the largest delegation, each member wearing a yellow Wisconsin tunic and the contingent being escorted by a G.A.R. drum corps."
It took Wisconsin suffrage supporters three more years before they finally realized their goals when the Wisconsin legislature ratified the 19th Amendment to the United States Constitution on June 10, 1919 extending the right of suffrage to women. Three days later, upon formal delivery of Wisconsin's ratification by a special messenger, the U.S. Department of State recognized Wisconsin as "the first state ratification of the amendment which has been received."

[Sources: McBride, Genevieve. On Wisconsin Women (Madison: University of Wisconsin Press, 1993); Youmans, Theodora. "How Wisconsin Women Won the Ballot" (1921)]
SFR
Learn More
Have Questions?
For more information or to purchase an image of one of the objects featured in Curators' Favorites, contact our staff by email below:
museumcollections@wisconsinhistory.org
Posted on February 24, 2005