Historical Essay
A Wisconsin Connection to Wounded Knee
The Story of Lost Bird
Enlarge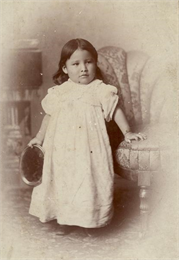 Zintka Laluni Colby, Lost Bird 1894
Studio portrait of Zintka Lanuni ("Lost Bird") Colby, a Lakota, who as an infant survived the Battle of Wounded Knee in 1891. View the original source document: WHI 26606
"Bury My Heart at Wounded Knee" is Dee Brown's famous, 1970 book about the massacre of the Lakota Sioux in western South Dakota in 1890. A little-known fact about the massacre involves one of Wisconsin's greatest reformers. Clara Bewick Colby (1846-1916) was a feminist and founding editor of the Woman's Tribune. Her friends included Susan B. Anthony, Elizabeth Cady Stanton and Olympia Brown. While a student in the first class of University of Wisconsin women from 1865-1869, Clara met Leonard Colby (1848-1924), a boarder in her grandparents' Madison home. He had enlisted in the Civil War at the age of fifteen and fought heroically. In 1871 they married and went west, Leonard setting up a law practice in Beatrice, Nebraska.
Finding Lost Bird
They became active in local affairs and by 1890 Leonard was a brigadier general in the Nebraska National Guard. He did not take part in the Wounded Knee massacre, but after hearing about it he quickly summoned his troops and visited the scene. There, without consulting Clara, Leonard carried away an infant who had survived for four days in a creek bed huddled beneath the frozen body of its murdered mother.
The baby was named Zintkala Nuni, or "Lost Bird." Clara and Leonard legally adopted her and hired a nanny named Maud Miller.
Enlarge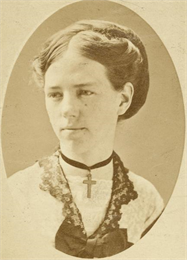 Clara Bewick Colby
Studio portrait of young Clara Bewick Colby wearing a cross necklace. View the original source document: WHI 26616
Lost Bird Abandoned
Leonard Colby soon rose to the position of assistant U.S. attorney general and moved the family to Washington, D.C. Clara Colby continued to advocate for women's rights and publish one of the suffrage movement's leading newspapers. Their careers left little time for parenting or family life. Leonard began an affair with Maud Miller. The affair went on for years, until Clara divorced him in 1906. He promptly married Miller and turned his back on Clara and their daughter.
Young Lost Bird suffered through a childhood of emotional neglect and regimented boarding schools. When she became pregnant as a teenager, her father sent her to a repressive reformatory for unwed mothers. Although Leonard occasionally paid her medical or travel bills, Clara provided most of the support for the troubled girl. After her schooling she was never able to settle into a stable lifestyle, working in Buffalo Bill's Wild West Show, transient acting jobs and vaudeville, which she pursued with a hapless husband in a troubled marriage.
Death
Following the divorce, Clara left Washington for the far West where she continued to be devoted to the cause of women's suffrage and the promotion of world peace. In 1913, the governor of Oregon appointed her a delegate to the International Woman's Suffrage Alliance at Budapest and to the international peace congress at The Hague. She succumbed to pneumonia in September 1916 in Eugene, Oregon.
Lost Bird's short and unfortunate life was brought to an end on Valentine's Day, 1920, when she died at her in-laws' California home during the Spanish flu epidemic then sweeping the nation. Her story was told in a 1995 book by Renee Sansom Flood, reviewed in the Historical Society's "Wisconsin Magazine of History." Flood also located Lost Bird's grave in California and arranged for her remains to be returned to South Dakota and interred at Wounded Knee in 1991. However, the Historical Society's review concluded that Flood's book asserts "many allegations need more convincing documentation," and in the years since it was published other reservations about its findings have emerged.
Learn More
See more about Clara Bewick Colby.