Historical Essay
Lighthouses and Lifesaving
Underwater Archaeology
Enlarge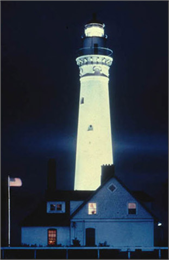 Photo of lighthouse at Wind Point, near Racine, by: Jon C. Bolton for Wisconsin Department of Tourism Wisconsin's Great Lakes Lighthouses
Lighthouses were created to protect the ships and sailors on the Great Lakes. All lighthouses were created under the U.S. Lighthouse and U.S. Lifesaving Services Departments.
---
How Lighthouses Protect Ships
Lighthouses help sailors by marking specific points of land that might be dangerous to ships:
Entrances to harbors
Shallow areas of water
Large rocks
At night, the bright revolving light on top of a lighthouse tower helps sailors avoid these dangerous areas.
---
Enlarge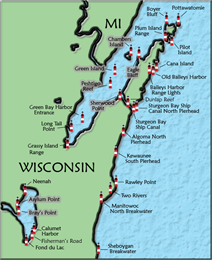 Map of Door County Lighthouses
Source: Lighthouse Friends
Wisconsin's Lighthouses
Today nearly 50 lighthouses can be found along Wisconsin's Great Lakes shores. They still light up the night, showing sailors the safe way into port.
Door County has more lighthouses than any other county in the United States
Wisconsin's Apostle Islands National Lakeshore has more lighthouses than any other National Park in the United States
---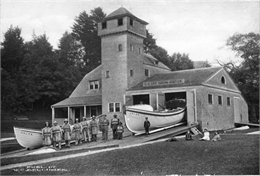 U.S. Life Saving Station
Charlevoix, Michigan. This Great Lakes Live Saving Station housed boats and lifesaving crews, similar to a fire station today. View the original source document: WHI 75114
Lifesaving Crews
Although lighthouses prevented some accidents, the U.S. government realized it needed to provide people and lifesaving equipment to help rescue sailors when shipwrecks did occur.
To help sailors in a shipwreck, lifesaving stations were created. They had highly trained crews to watch for and rescue shipwrecks and sailors.
Lifesaving crews were very brave, made many daring rescues, and worked at great risk to their own personal safety.
Today, the lifesaving crews of the U.S. Lighthouse and U.S. Lifesaving Services have been replaced with the U.S. Coast Guard, who now patrols the Great Lakes. They are always ready to help ships and sailors in an emergency.
Learn More
See more images, essays, newspapers and records about lighthouses.
The Maritime Preservation Program
Learn about the Society's Maritime Preservation Program, which preserves Wisconsin's historic shipwrecks.
The Sinking of the Lucerne
The Lucerne was a cargo ship that sailed Lake Superior in the 1800s. Find out more about the Lucerne and its final fate through this interactive resource, historical essay and slideshow.