Field Trip or Tour
How to Schedule a Research Field Trip to the Wisconsin Historical Society
National History Day Research
On this field trip, students will:
Learn how to conduct self-directed research on topics in North American history
Be trained to effectively use the Society's Library and Archives
Experience using computers and talking to reference staff to find books and collection records
Enlarge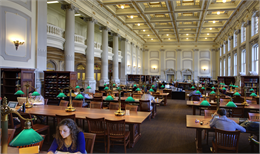 Wisconsin Historical Society Library
Madison, Wisconsin. View of the 2nd floor Library Reading Room.
Program Details

| Attribute | Description |
| --- | --- |
| Length | Minimum 3 hours |
| Availability | Open year-round, limited hours during UW finals and Summer |
| Maximum group size | 45 students |
| Location | Wisconsin Historical Society Headquarters, 816 State Street, Madison, Wisconsin |
| Lunch | Lunch facilities are not available at the Society. Many groups lunch at the UW Memorial Union (800 Langdon Street) across the street or dine at restaurants nearby on State Street. |
| Grade Level | 6th - 12th |
| Cost | Free |
Reserve Your Field Trip
In order to give Library and Archives staff sufficient time to prepare for your visit, please contact us as early as possible. We need a minimum of at least two weeks notice.
Step 1: Start the reservation process by emailing us the following information:
What dates are you considering? Send a couple options.
What time do you plan to arrive and depart? (Minimum three hours to get the most out of your research trip.)
How many students will you have in your group? Maximum group size is 45. We require at least two chaperones per 20 students.
Have your students picked topics? Please send a list of narrow research topics no later than 2 weeks prior so staff can pull archival materials.
What are your goals for the day? Students have a much more successful trip if there is a focus for their time with us. Do you want to introduce your students to specific archival materials? Do you want them to accomplish as much research as possible for a National History Day project?
Step 2: Send an email request to NHDinWI staff.
For NHD field trips, email our History Day staff for reservations.
Step 3: Once we hear from you, you will receive an email from our staff confirming the date and details of your reservation.
Staff will also send along pre-visit instructions to complete before your visit.
Reminder: Remember to send topics* two weeks in advance! This allows our library and archives staff to pull materials for students and have resources ready for your trip.
*Be as specific and narrow with topics as possible. For example, "Civil Rights Movment" is not as useful to us as "1961 Freedom Summer." More specific topics ensure we know how to direct students, making the most of their time here.
Reminder: Perform the pre-visit steps before your visit. Follow the steps on the Research Worksheet and watch these short video tutorials.
Computers in the reading room are also limited. We cannot guarantee students will have access. We highly recommend students bring a laptop, tablet, or smart phone to help with searching and saving.
Day of Trip:

NHD staff will meet your group in the lobby of the Wisconsin Historical Society at 816 State St. (This IS NOT the museum on Capitol Square, inform your bus driver). We will provide a quick introduction to the day.
The group will get a short introduction to how to use the library and then a similar tour in the archives. Each lasts 10-15 minutes.
Students are set free to work. Please bring flash drives as students can scan materials for free this way. Bringing a camera is also a great way to use materials for visual NHD projects.
Directions, Transportation, Parking
To get directions, parking maps, and more see Location and Directions to the Society.
Most buses find it convenient to drop off students in front of the UW Memorial Union (800 Langdon Street). The Wisconsin Historical Society is across the street, facing Library Mall.
Vehicles with a clearance of 6'9" or less should park at the State Street/Campus Ramp, at the corner of State and Lake Streets, one block from the Society. If you have a larger vehicle, see more UW-Madison parking options.
Learn More
Learn about where you can go to learn about Wisconsin history.
Prepare your students for their research fieldtrip to the Wisconsin Historical Society Library and Archives.
Have Questions?
Contact our staff by email.