Feature Story
Hospital Gets New Lease on Life as Senior Housing
Reedsburg Municipal Hospital, Reedsburg, Wisconsin
The Reedsburg Municipal Hospital was built in 1932 in a residential neighborhood that would later become the Park Street Historic District. Madison, WI, architect Frank Moulton designed period revival details for the central polygonal entry pavilion — historical references helped the hospital fit more comfortably among the neighborhood architecture.
Enlarge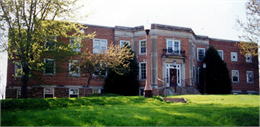 Reedsburg Municipal Hospital, 1984
Reedsburg, WI. Vacant hospital prior to rehabilitation. View the property record: AHI 67116
The building served the community's health needs until its closing in 1995. When a proposal to demolish it was made public, many local residents came forward and spoke against the plan. They talked about being born at the hospital and visiting ailing relatives to either watch them recover or spend their final days. Clearly the community had an emotional connection with the historic building. Many residents took its potential loss personally.
Enlarge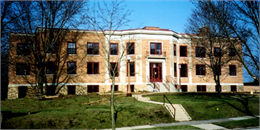 Reedsburg Municipal Hospital
Reedsburg, Wisconsin. Hospital after rehabilitation. View the property record: AHI 67116
The building sat empty until developer Progressive Designs, LLC, Waunakee, WI, purchased the building with the intention of converting it to affordable independent-living senior housing. The firm partnered with Heartland Properties, and gained additional financial support from the City of Reedsburg and John Deere Financial Services. The project also qualified for affordable housing tax credits, a program administered by the Wisconsin Housing and Development Authority, and the preservation tax credit, administered by the Wisconsin Historical Society and the National Park Service.
The developers preserved the distinctive octagonal entry lobby, one of the few original interior features remaining after 1953, 1964 and 1976 remodelings. They converted the hospital rooms and offices into apartments and cleaned the masonry with a mild detergent. They replaced deteriorated windows and those that had been inappropriately replaced with glass block. The new windows closely match the appearance of the original ones. A garage addition was placed unobtrusively at the basement level on an already altered side elevation.
"Park Street Senior Homes" offers 24 unique apartments for people age 55 or older. In addition, the building is also home to the Reedsburg Food Pantry.
The old hospital has made a remarkable recovery and the prognosis is for a long and useful life.
Read more about the history of the Reedsburg Municipal Hospital Building in the historic property record on our website.