Historical Essay
Madison's Castle
A Strange Man's Strange Dwelling
Enlarge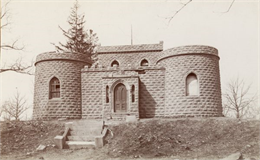 Walker's Castle
Benjamin Walker Castle, standing 1862-1893 in the 900 block of East Gorham Street. View the original source document: WHI 52034
In 1861, a melancholy Englishman named Benjamin Walker brought his family across the Atlantic to settle on what were then the outskirts of Madison. No one knows why he left home or why he chose Madison, but in 1863 he erected a medieval castle on East Gorham Street near its intersection with Brearly.
Walker's Castle
From the street Walker's Castle displayed two round turrets on either side of a tall square tower. In these turrets were a pair of octagonal sitting rooms warmed by fireplaces on the exterior wall. Because Gorham Street runs along a ridge, the lot sloped down in the back and the kitchen and dining room were below ground, looking out toward Lake Mendota. The bedrooms were on the upper stories of the towers. A stone barn was built near the lakeshore and an underground tunnel connected the two buildings. An arched stone entrance sheltered the Walkers and their few visitors as they arrived.
The interior was as impressive as the exterior. From a large entrance hall one could turn either way into an octagonal sitting room papered in gold. The room on the right was decorated in red upholstery and carpet, while that on the left was done in green. In each room intricately carved marble mantelpieces topped the fireplaces and large oil paintings in heavily gilt frames decorated the walls. The dining room set consisted of a massive oak table and chairs from England, with elaborate candelabras and fine Sévres china.
Glowering and Silent
Enlarge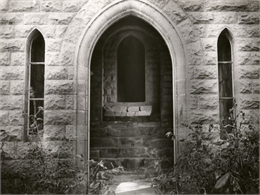 Benjamin Walker Castle Entrance
An exterior view of the dilapidated rear doorway to the Banjamin Walker Castle, ca. 1895. View the original source document: WHI 52033
A girl who once visited the home as a child recalled Mr. Walker as "a dark, glowering, silent man" who spent most of his time in his "dark study, which always had a smell of musty books and an aromatic odor" later assumed to be liquor. "Mr. Walker paid scant attention to either his wife or his children...He seldom appeared at meals. Except on the rare occasions when he had men friends to dine, his meals were served to him in the study up in one of the towers."
In 1866 the Walkers departed Madison as abruptly and mysteriously as they had arrived, selling the castle on Gorham St. to a man named Thompson. His wife or widow remained in the house and was remembered by residents as "not an amiable neighbor" who "threatened to fill trespassers with lead from one of her numerous fowling pieces" if they approached the castle.
Walker's Castle Razed
It soon fell into the hands of a mortgage holder, but since it was cold, damp and difficult to maintain, it lay unoccupied for several years and gradually crumbled. Its most frequent visitors were UW students who would initiate new freshmen by taking them to the decaying mansion at night and forcing them to walk the length of the underground tunnel alone. It was finally demolished sometime after 1879 and its materials used in another house at 137 E. Gorham, though its stone wall lasted well into the twentieth century. Today, all that remains of Walker's Castle is the street named "Castle Place" running alongside the Christ Presbyterian Church.
Learn More
See more about Benjamin Walker's castle.