Classroom Material
Traveling in Wisconsin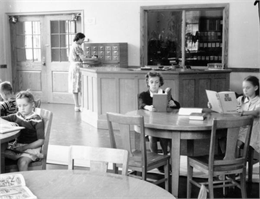 Children in Library, 1938
Greendale, Wisconsin. Children reading in a Greendale library in 1938. View the original source document: WHI 2319
Grade level: Elementary
Duration: More than one class period
This multidisciplinary activity motivates students to read while learning about places in Wisconsin. It combines geography and map skills with reading, math, and problem-solving.
Objectives
Students will:
Increase reading fluency with time spent reading at home
Review addition and subtraction as they add minutes into their portfolios and then subtract them as miles when they travel in Wisconsin
Use map-reading skills to trace their routes from city to city on a Wisconsin road map
Apply problem-solving skills to match their collected clues to the descriptions of the criminals in their game packets
Background
Students are encouraged to read at home, where parents help them track their reading minutes, then teachers record their reading minutes in portfolios where minutes turn into "miles. " They visit sixteen cities around the state to collect clues and solve eight crimes. This activity weaves facts into the crimes that students are trying to solve as they travel their reading miles.
Resource Materials
Procedures
In class, explain to fourth-grade students that they are expected to read at home. Send home a letter to parents detailing how to record and initial students' reading time. Teachers will record the minutes on a master list in the students' portfolios.
Decide which criminal committed which crime and record their name in a notebook. Only you know who committed each crime.
Give every student an individual game packet that contains the following: a map of Wisconsin showing the mileage between major cities; profiles of twenty-four criminals, listing sixteen characteristics for each (hair color, favorite food, and so on); and a sheet that indicates which major city will match the characteristic with the criminal (a student can learn about a criminal's hair color in Eau Claire, favorite food in Beloit). The packet also includes eight individual "Record Your Clues" sheets that each list a single crime, and sixteen characteristics to be filled in by the student.
Break students into groups of four and give each group a Wisconsin road map.
Have students design a car, creating a map key from the color of that car, and place the designed cars at their own city or town on the map.
On one day each month, invite parents, principals, reading specialists and other adults to volunteer and help with the "Traveling in Wisconsin" activity. Every group of students needs one adult.
Volunteers will help students in subtracting the distance that they need to travel to a neighboring city from their accumulated miles.
Students move their cars, trace the route on the road map with a magic marker, and then visit the teacher's desk to obtain the clue that matches their crime. For example, if Jasmine is solving "The Case of the Governor's Grab," and travels to Eau Claire, she would learn what color hair the criminal has.
When a student has five clues, they may come to the teacher and guess which criminal is responsible.
If correct, the student selects a new "crime" to solve and continues around the state collecting new clues. If incorrect, the student collects five more clues for the first case, before guessing again.
Continue the activity for about four months. Most of the students will have solved all eight crimes, as well as circling Wisconsin several times!
Credit
This teacher-submitted, elementary-level lesson plan appeared in the Badger History Bulletin. Please adapt it to fit your students' needs.
Authors: Wanda Zeug and Dan Kevan, Shell Lake Elementary School