Historical Essay
How Madison Became a City
From Bear Hunting on the Capitol Square to a Fully-incorporated City
Enlarge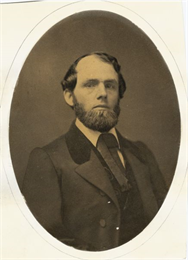 Cassius Fairchild, 1859
Portrait of Cassius Fairchild of Madison, the eldest son of Jairus Fairchild, about 1859. At this time he assumed responsibility for a large part of the family interests as well as achieving a leadership role in the Democratic Party. In 1959 he was chairman of the state party and elected to a position in the Assembly. He served during the Civil War and died prematurely as a result of a wound received at the Battle of Shiloh. View the original source document: WHI 38585
Although Madison was chosen as the state capital in 1836 and founded in the spring of 1837, it remained a small village for its first 20 years.
Bad Turn-out
In the spring election of 1839, only 54 people voted. A year later, the village contained only two stores, three public houses, three groceries, one steam mill for cutting lumber and a couple dozen houses — in all, 35 buildings surrounded by a thick forest. Wolves, bears, deer and game birds could all still be hunted on the capitol square, and during those years Dane County government effectively served the citizens' needs. At the end of 1845 a public meeting endorsed the idea of incorporating Madison as a village within Dane County, which the legislature approved on February 3, 1846.
Growing
Over the next decade Madison grew to such proportions that leaders pushed for its incorporation by the state as a city, with a municipal government. In his 1874 "History of Madison" Daniel Durrie tells what happened next:
Enlarge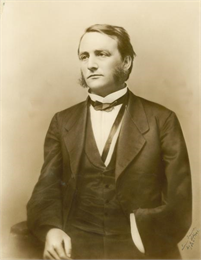 Lucius Fairchild, ca. 1870
Waist-up portrait of Lucius Fairchild during his tenure as Secretary of State of Wisconsin. Fairchild's arm was amputated after he was injured at the Battle of Gettysburg on July 1, 1863. In 1866 he was elected governor. View the original source document: WHI 6601
"On the 2d of February, 1856, the board of trustees of the village appointed a committee consisting of A. A. Bird, Simeon Mills, Dr. Thos. O. Edwards, and J. P. Atwood to draw up a city charter, and to procure its passage before the legislature then in session. The bill was drawn and Madison became a "city" by an act approved March 4.
"On the 11th of March the first city election was held. Jairus C. Fairchild being an independent, and Julius P. Atwood the Democratic candidate for mayor; the former received 711 votes and the latter 506, electing Col. Fairchild by a majority of 205."
Fairchild
Jairus Cassius Fairchild was born in New York in 1801 and moved to Ohio in 1822, where for a time his business partner was the abolitionist John Brown. He came to Wisconsin with his family in June 1846 and two years later was elected state treasurer. He was the father of Civil War general and Wisconsin governor Lucius Fairchild.
Since the spring of 1856 Madison has been organized and governed as a city. Dozens of historical newspaper stories on Madison politics can be found on our website.
Learn More
See more images, essays, newspapers and records about Lucius Fairchild.