Online Exhibit
That's the Ticket! A Parade of Presidential Elections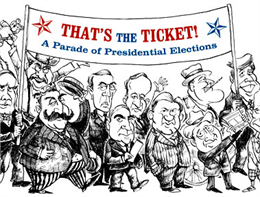 That's the Ticket, 2008
Green Bay, Wisconsin. Portion of the cartoon created and donated for the "That's the Ticket!" exhibit by editorial cartoonist Joe Heller.
"That's the Ticket: A Parade of Presidential Elections" is an exhibit that provides a synopsis of candidates, election facts, electoral maps and historic photos for every presidential campaign from 1856-2008.
Use this tool to compare and contrast elections.
You will learn that the issues in our nation's political history such as war, taxes, recession, healthcare, immigration and the environment — as well as judgments about the character and experience of candidates — have played out many times up to the present day.
How the exhibit is organized
The exhibit starts with the 1856 presidential election and proceeds chronologically through 2008. We start in the year 1856 because it was the first year the Democratic Party faced off against the newly formed Republican Party, which was founded in Ripon, Wisconsin, in 1854.
Slate of Candidates: Each party's presidential and vice presidential candidates (tickets) are listed along with election results in both popular and electoral votes. Only tickets that won electoral votes are listed.
Election Facts: Campaign and election facts summarize some of the economic, social and political issues that affected the course of the election.
Electoral Map: A full color map of the United States gives a visual representation of how America voted. You can see which states voted for which tickets.
Wisconsin's Choice: A special map of Wisconsin documents how our citizens voted.
Historic Photos: Images feature the national candidates. Many were taken during campaign stops in Wisconsin, demonstrating a unique Wisconsin perspective. Others document the campaign conventions and inaugurations.
People Featured in This Exhibit:
Spiro Agnew
Chester A. Arthur
Alben W. Barkley
Lloyd Bentsen
Joseph Biden
James Blaine
Francis Blair
John C. Breckinridge
John W. Bricker
B. Gratz Brown
William Jennings Bryan
Charles W. Bryan
James Buchanan
George H. W. Bush
George W. Bush
Nicholas M. Butler
Jimmy Carter
Dick Cheney
Grover Cleveland
Bill Clinton
Schuyler Colfax
Calvin Coolidge
James M. Cox
Charles Curtis
Henry G. Davis
John W. Davis
Charles G. Dawes
William Dayton
Thomas Dewey
Bob Dole
Stephen A. Douglas
Michael Dukakis
John Edwards
Dwight D. Eisenhower
William English
Charles W. Fairbanks
Geraldine Ferraro
Gerald Ford
John Fremont
James Garfield
John Nance Garner
Barry Goldwater
Al Gore
Ulysses S. Grant
Horace Greeley
Hannibal Hamlin
Winfield Scott Hancock
Warren G. Harding
Benjamin Harrison
Rutherford B. Hayes
Thomas Hendricks
Garret Hobart
Herbert Hoover
Charles Evans Hughes
Hubert Humphrey
Herschel V. Johnson
Lyndon B. Johnson
Andrew Johnson
Estes Kefauver
Jack Kemp
John F. Kennedy
John W. Kern
John Kerry
Frank Knox
Alf Landon
Joe Lieberman
Abraham Lincoln
Henry Cabot Lodge, Jr.
John A. Logan
Thomas R. Marshall
John McCain
George McClellan
George McGovern
William McKinley
Charles L. McNary
William E. Miller
Walter Mondale
Levi Morton
Edmund Muskie
Richard Nixon
Barack Obama
Sarah Palin
Alton B. Parker
George Hunt Pendleton
Dan Quayle
Ronald Reagan
Whitelaw Reid
Joseph Taylor Robinson
Mitt Romney
Theodore Roosevelt
Franklin D. Roosevelt
Paul Ryan
Arthur Sewall
Horatio Seymour
James S. Sherman
Sargent Shriver
Al Smith
John Sparkman
Adlai E. Stevenson
William Howard Taft
Allen G. Thurman
Samuel J. Tilden
Harry S. Truman
Henry A. Wallace
William A. Wheeler
Wendell Willkie
Woodrow Wilson
Henry Wilson