Historical Essay
Bonne Fete, sieur de La Salle!
The Path of a Fur Trader and Fort Builder
Enlarge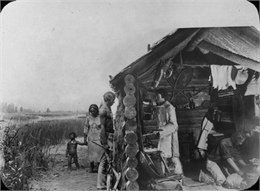 Fur Trading Post Diorama
A diorama depicting several people gathered at a fur trading post in Juneau, Alaska. View the original source document: WHI 101776
November 22 is the birthday of Robert Cavelier, sieur de La Salle (1643-1687), for whom more than 1,000 American places have been named. Though he spent relatively little time in Wisconsin, few individuals had more impact on our history.
La Salle was born in Rouen, Normandy, in 1643 to a prosperous family with investments in New France. His elder brother, Jean Cavelier, became a priest and went to Canada where 23-year-old Robert joined him in 1666. In 1669 he accompanied the first expedition to the upper Great Lakes and may have wandered as far south as the Ohio River; the evidence is inconclusive.
Fort Frontenac
In 1673, the reports of Father Jaques Marquette and Louis Joliet convinced him that the Mississippi flowed not to the Pacific but to the Gulf of Mexico. Backed by Governor Frontenac and supported by the King, La Salle built Fort Frontenac at present-day Kingston, Ontario as a base for colonizing the Mississippi Valley. He envisioned a chain of French forts stretching from the Atlantic to the Gulf that would channel the lucrative fur trade of the interior to France.
Enlarge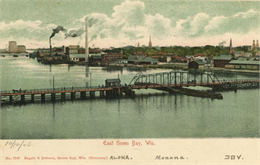 Green Bay
Elevated view of East Green Bay, Fox River, and various buildings belonging to the manufacturing industry, ca. 1906 View the original source document: WHI 31887
To build it, La Salle formed alliances between 1675 and 1682 with Indian nations from the upper Great Lakes to the central Mississippi Valley and constructed forts from Niagara Falls to central Illinois. In 1678 he led the first party of Europeans to see Niagara Falls. Seeing the falls as a great obstacle to navigation of the interior, he constructed a sailing vessel upriver at Fort Frontenac in 1679, the first on the Great Lakes, which took him and his associates from the vicinity of modern Buffalo, New York, to Green Bay, Wisconsin.
Finally, in the spring of 1682, he journeyed down the Mississippi to its mouth where on April 7, 1682, he claimed the river and all the lands that it drained for France. He called it "La Louisiane," or Louisiana, in honor of King Louis XIV.
Failure and Murder
La Salle then returned to France and obtained support for establishing the southernmost cornerstone in his grand arc of fortified posts. With 180 colonists on four ships, La Salle sailed on July 24, 1684, for the Gulf of Mexico to plant a settlement at the mouth of the Mississippi. He overshot his destination, however, and the expedition was shipwrecked on Matagorda Bay not far from modern Houston, Texas. From here, the frustrated colonists reconnoitered much of Texas in a vain search for a route to the Mississippi until, on March 19, 1687 mutinous soldiers ambushed and murdered La Salle. Most of the colonists soon died from disease or were over-run by local Indians, but a handful led by Henri Joutel eventually made it to the Illinois country and so back to France.
You can read more original documents about La Salle's life and explorations in our American Journeys digital collection.
Learn More
Robert Cavelier, sieur de La Salle
See more about Robert Cavelier, sieur de La Salle.