Online Exhibit
Toy Stories
Enlarge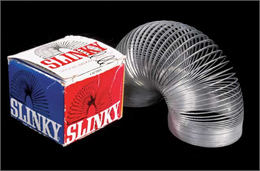 Slinky Spring Toy, ca. 1975
Many people remember this popular toy from childhood. Manufactured by James Industries, Inc. Gift of Clara F. Lake. Museum Object 1980.199.2.
In this online exhibit, you'll discover stories of notable Wisconsinites as they share their memories of favorite childhood toys and playthings.
See a selection of toys and games from the collections of the Wisconsin Historical Museum.
Discover people's stories about their favorite toys.
Toy Stories From These People Are Featured in This Exhibit:
Silvia Acevedo
Carl Allen
Andrea Anders
Jeanne Anthony
Tammy Baldwin
Ben Sidran
Dick Bennett
Tony Bennett
Anthony Crivello
Dana Daul
Erin Davisson
Victor DeLorenzo
Jessica Doyle
Jim Doyle
Kitty Dunn
Adam Elliott
Tammy Elliott
Casey FitzRandolph
Ellen Foley
Mark Green
Holly Brook (Skylar Grey)
Suzy Favor Hamilton
Bob Harlan
Rick Hill
Dan Immerfall
Al Jarreau
Bill Jartz
Greg Jeschke
Matt Kenseth
Mark Koehn
Barbara Lawton
Patty Loew
Laurie McCallum
Scott McCallum
Patricia McConnell
Rick McNeal
Jacquelyn Mitchard
Doug Moe
Tim Morrissey
Rick Murphy
Tracy Nelson
Andy North
Amy Pietz
Terry Porter
Beth Heiden Reid
Pat Richter
Brian Ritchie
Pleasant Rowland
Bo Ryan
Tom Snyder
Eric Szmanda
Mark Tauscher
Sue Ann Thompson
Daniel J. Travanti
Dave Zweifel