Online Exhibit
Pottery by Frackelton
Enlarge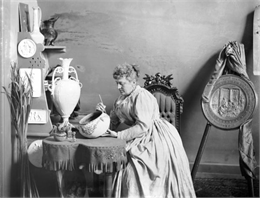 Susan S. Frackelton Painting Bowl, 1901
Frackelton in a studio shot, surrounded by her artwork and medal, sitting at a table painting a bowl. View the original source document: WHI 8857
Susan S. Frackelton (1848-1932) of Milwaukee began her artistic career as a landscape and china painter, like many women artists in the late 1800s. For Frackelton, this was just the beginning; she soon became a major contributor to the arts in America as a businesswoman, inventor, author and artist.
Frackelton eventually developed her own style of art pottery featuring distinctive blue and gray designs on stoneware.
This online exhibit, "Pottery by Frackelton," features images from the Wisconsin Historical Society's collections of Frackelton's early ceramics work and her art pottery pieces.