Online Exhibit
Living Under a Mushroom Cloud: Fear and Hope in the Atomic Age
Enlarge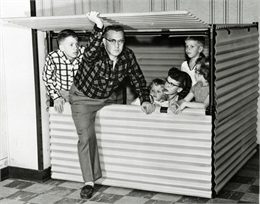 Family Bomb Shelter, 1952
A Wisconsin family inside their new bomb shelter. View the original source document: WHI 1941
This interpretive exhibit gives a glimpse into the contradictions of fear and hope American society experienced during the Atomic Age, 1945-1965.
Learn how worries of nuclear warfare, atomic radiation and Communist invasion influenced popular film and literature.
Discover the federal government programs meant to protect families from nuclear attacks through fallout shelters, survival manuals and evacuation plans.
Explore America's belief that good could result from atomic energy in terms of scientific research,

nuclear

energy and medical innovations

.
Read about nuclear disarmament, emerging national issues, the end of the Cold War era and the lure of the space race.
People Featured in This Exhibit
Dana Andrews
Paul Boyer
Paul Boyer
David Bradley
Dick Calkins
Roy Cohn
Matt Cvetic
Blake Edwards
Al Fago
Igor Gouzenko
Father Groppi
Leslie R. Groves
John Hersey
Verne P. Kaub
President John F. Kennedy
Nikita Khrushchev
James Kuntz
Frank Lovejoy
David Low
Douglas Malewicki
Alex Malloy
Frank Marasco
Virginia Martinson
Pat Masulli
Joseph McCarthy
Ray Milland
Francis Miller
D.F. Moran
George Nelson
A. J. Riker
Mickey Rooney
Ethel Rosenberg
Julius Rosenberg
Peter Sellers
Paul Sobel
Edith Sobel
Joseph Stalin
Lewis L. Strauss
President Harry S. Truman
Sonny Tufts
John Wickland
John Wickland
John Willard