Historical Essay
Captain Dawes and His Imaginary Servant
A Wisconsin Civil War Story
In July 1861, Captain Rufus R. Dawes of Company K, the 6th Wisconsin Infantry, writes to his sister about a befuddling experience he had after arriving at Camp Randall for training.
Enlarge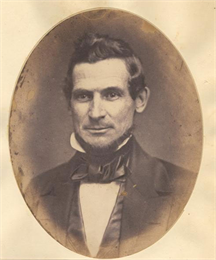 Simeon Mills, 1856
Madison, Wisconsin. View the original source document: WHI 27668
Enlarge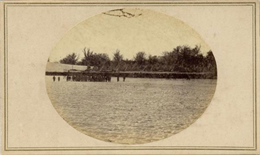 Soldiers at Camp Randall, 1861
Madison, Wisconsin. View the original source document: WHI 4226
Enlarge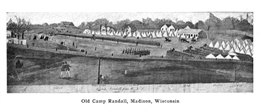 Camp Randall, 1861
Madison, Wisconsin. Reproduction of John Gaddis's sketch "Old Camp Randall, Madison, Wisconsin." View the original source document: WHI 5601
From Original Text: "I remember that when I took my pay roll to that excellent gentleman, Simeon Mills, the Paymaster, he said,
"I see, Captain, that you have omitted to put in your servant."
I said, "I have no servant." Mr. Mills said, "I think you certainly have, as the Regulations require it."
Seeing that he knew more about the subject than I did, I made no further objection to a servant's going on the pay roll.
This was one of the farces of our military system. My treacherous memory forbids my recording here, whether my servant was described as having green eyes and red hair or red eyes and green hair; but I think the old pay roll will disclose a very remarkable descriptive list of this imaginary person.
A Captain of infantry had sixty dollars per month as pay and sixty-eight dollars per month as "allowances."
Thirteen dollars per month and thirty cents per day (one ration) was allowed for a servant, and one dollar and twenty cents (four rations) was allowed for subsistence.
But the Captain was obliged to certify that he had a servant, and to describe him.
Few Captains had servants, but all had one hundred and twenty-eight dollars per month."
View the Original Source Document
This document has been scanned.
How to Cite
For the purposes of a bibliography entry or footnote, follow this model:
Dawes, Rufus R. '"Service With the Sixth Wisconsin Volunteers," Chapter 1, page 14.