Historical Essay
Rebel Sharpshooters Pick Off Wisconsin Soldiers
A Wisconsin Civil War Story
During the Second Battle of Bull Run on August 29, 1862, merciless bullets rang and soldiers were slaughtered as Captain Rufus R. Dawes' 6th Wisconsin Infantry was pinned down by enemy sharpshooters.
Enlarge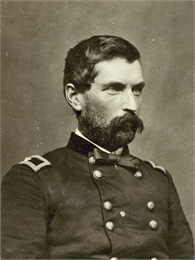 John Gibbon
Quarter-length portrait of John Gibbon in military uniform. View the original source document: WHI 58382
Enlarge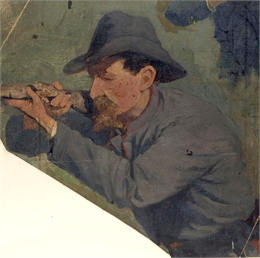 Confederate Civil War Soldier, 1886
Milwaukee, Wisconsin. Oil painting of a Confederate Civil War sharpshooter aiming his rifle, created as a preliminary study for the cyclorama of the Battle of Gettysburg. View the original source document: WHI 26105
From Original Text: "All the troops that had been in the woods, except the Sixth Wisconsin [his own regiment], had now retreated and gone to the rear.
Brigadier General John Gibbon, be it ever remembered to his honor, remained with our regiment. He said he had received no orders to retreat and he should stay until he got them.
The regiment was now lying on the ground, subjected to a fire from rebel sharp-shooters and quite a number of our men were killed or wounded by them. A bullet would strike a man who would writhe, groan and die, or spring up, throw away his impediments and start for the rear.
Our men peered through the leaves, shooting at the puffs of powder smoke from the muskets of the rebels.
As I walked along the line, some men of company "I" said: "Major, don't go near that tree." I was not aware what tree, but had wit enough to jump away.
Spat, went a bullet against a tree, cutting a corner from my haversack. They had noticed that the tree had been several times struck by the bullets of a sharp shooter.
A soldier of a New York regiment lay wounded in front of our line. He begged piteously for water and for help. First Sergeant, Charles Lampe, of company "F" went to give him a swallow from his canteen and was himself shot dead by the merciless bullet of the sharp-shooter.
Private William Bickelhaupt, of company "F," had been shot through the body, and I heard the poor little boy, for such he was, in plaintive broken English telling his comrades what to write to his "Mutter.""
View the Original Source Document
This document has been scanned.
How to Cite
For the purposes of a bibliography entry or footnote, follow this model:
Dawes, Rufus R. "Service With the Sixth Wisconsin Volunteers," Chapter 3, page 72.