Historical Essay
Dog and Master at Antietam
A Wisconsin Civil War Story
On September 17, 1862, the canine companion of Captain Werner Von Bachelle of Company F, 6th Wisconsin Infantry, proved his lasting loyalty on the battlefield.
Enlarge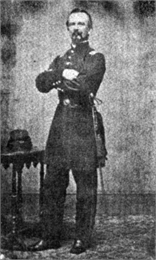 Portrait of Captain Werner Von Bachelle
Enlarge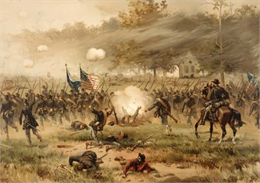 The Battle of Antietam, 1862
Antietam, Maryland. Color lithograph of Union lines in the midst of battle. View the original source document: WHI 69490
From Original Text: "At the very farthest point of advance on the turnpike, Captain Werner Von Bachelle, commanding Company F, was shot dead.
Captain Bachelle was an ex-officer of the French army. Brought up as a soldier in the Napoleonic school, he was imbued with the doctrine of fatalism.
His soldierly qualities commanded the respect of all, and his loss was deeply felt in the regiment.
Bachelle had a fine Newfoundland dog, which had been trained to perform military salutes and many other remarkable things.
In camp, on the march, and in the line of battle, this dog was his constant companion. The dog was by his side when he fell.
Our line of men left the body when they retreated, but the dog stayed with his dead master, and was found on the morning of the 19th of September lying dead upon his body.
We buried him with his master.
So far as we knew, no family or friends mourned for poor Bachelle, and it is probable that he was joined in death by his most devoted friend on earth."
View the Original Source Document
This document has been scanned.
How to Cite
For the purposes of a bibliography entry or footnote, follow this model:
Dawes, Rufus R. "Service With the Sixth Wisconsin Volunteers," Chapter 4, page 93.