Historical Essay
Virginia Slaves Decide Whether to Stay or Go
A Wisconsin Civil War Story
On February 12, 1863, Captain Rufus R. Dawes of the 6th Wisconsin Infantry offers a group of slaves in Virginia the choice of freedom. When their beloved mistress of the plantation implores them to stay, some slaves find the decision difficult.
Enlarge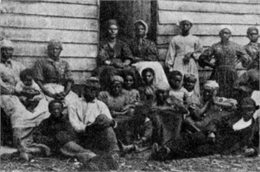 Group of Contrabands
Belle Plaine, Virginia. View the original source document.
From Original Text: "As I rode by a row of negro quarters, an old negro slave with his hat under his arm, his voice tremulous with fear and excitement, said: "Massa, is you the big ossifer?" I asked him what he wanted. He said: "We heard you'uns would make us colored people free. The people want to go with you. Some says we can go and some says we can't go." I told him that they could go if they chose, and rode off, while the old man profoundly blessed the "good God" who had sent us there. When I got back to the steamer, I found the prisoner, Dr. Smith, [owner of these slaves] an intelligent and gentlemanly man and I had a pleasant conversation with him.
Hearing a commotion we went to the outer guard of the boat where a strange scene met our eyes. There were men, women and children, about seventy slaves, gathered upon the beach. They were of every age and size from the old patriarch who had interviewed the "big ossifer," to babes at the breast. They had their worldly all with them. I gave Dr. Smith to understand that his slaves were free under our flag, and could go on the boat if they chose, and that he should not interfere with their decision…
[Later the same day Mrs. Smith, mistress of the plantation, came to the steamboat.] She seemed to understand that we were going to take her slaves, whether they wished to go or not, but the Colonel assured her that he did not ask them to leave and that if she could induce them to remain, she might do so. The lady went among the slaves with tears in her eyes and implored them by every recollection and attachment of a life-time, and by the sacred memories of their dead, not to go away, and she painted in high colors the miseries that would be inflicted upon them when they became "free niggers" up north.
The slaves regarded her with affection and the highest respect and they were deeply moved. But there were friends of freedom and fair play among the men who carried muskets. They warned the negroes that before our steamer was out of sight the chains would be on them, and they would be driven south. They told them that their liberty was here, to take it. I remember the squeaking tenor voice of private Edwin C. Jones, of company "E," asking, "Shall these babes be slaves? Almighty God forbid it!" The negroes all went on the boat. The lady's maid hung weeping upon her, but she went with her people to be free."
View the Original Source Document
This document has been scanned.
How to Cite
For the purposes of a bibliography entry or footnote, follow this model:
Dawes, Rufus R. "Service With the Sixth Wisconsin Volunteers," Chapter 5, page 120.