Historical Essay
Wisconsin Troops Capture a Rebel Regiment at Gettysburg
A Wisconsin Civil War Story
On July 1, 1863, Colonel Rufus R. Dawes and the 6th Wisconsin Infantry bravely move forward amid hidden enemy fire. With determination and grit, they finally capture the rebels who were shooting from a 4-foot-deep railroad cut.
Enlarge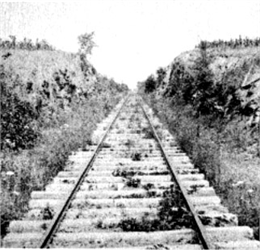 Railroad Cut
Gettysburg, Pennsylvania. Railroad cut where two in the regiment were captured. View the original source document.
Enlarge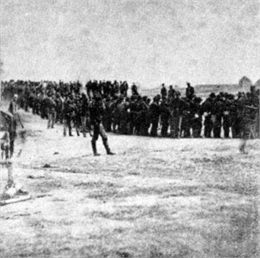 Rebel Prisoners, 1863
Gettysburg, Pennsylvania. Prisoners captured on July 1, 1863. View the original source document.
From Original Text: "The chief business of our officers at this post is to issue passes to slave hunters, in obedience to higher authority.
The new article of war forbidding officers to aid in returning fugitives, is carried out thus far, that we need not show the claimants where they are, nor take hold of them and help to get them away.
But, on the other hand, passes are given to search our camps, and if the negroes are found in them, a word of sympathy must not be expressed by us, nor a finger lifted to save!
I will be candid and say that without our direct aid it is a matter to catch a man fleeing for his life. But this is because the men want freedom, and will run in hopes of securing it.
Now, sir, we the officers and privates of this regiment, do not like this work. We came here to fight the common enemies of our country, and we want to do it.
Field officers have ridden twenty-four hours in a drenching rain, in the night, too, to protest against their regiment being used in this way.
Negro catchers say that Starkweather's brigade do not cheerfully obey orders. This unwillingness on our part to do the dirtiest of all work, is regarded by the negro claimants as "bad usage" and in consequence reprimands have come down to us!"
View the Original Source Document
This document has been scanned.
How to Cite
For the purposes of a bibliography entry or footnote, follow this model:
Dawes, Rufus R. "Service With the Sixth Wisconsin Volunteers," Chapter 8, page 168.