Historical Essay
Reflections on Unburied Soldiers Left at Gettysburg
A Wisconsin Civil War Story
On the second day at Gettysburg, July 2, 1863, Confederate troops drive the 6th Wisconsin Infantry from the battlefield. The unit eventually retreats to a nearby hill where Colonel Rufus R. Dawes reflects on the price paid by the infantry that day.
Enlarge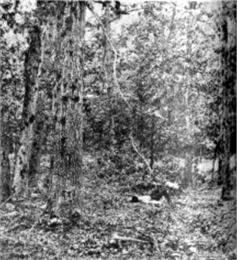 Fallen soldier at Culp's Hill
Gettysburg, Pennsylvania. View the original source document.
From Original Text: "After a short breathing spell my men again promptly responded to the order to "fall in." Lieutenant Rogers brought us orders from General Wadsworth, to join our own brigade, which had been sent to occupy Culp's Hill.
As we marched toward the hill our regimental wagon joined us. In the wagon were a dozen spades and shovels. Taking our place on the right of the line of the brigade, I ordered the regiment to intrench.
The men worked with great energy. A man would dig with all his strength till out of breath, when another would seize the spade and push on the work. There were no orders to construct these breastworks, but the situation plainly dictated their necessity.
The men now lay down to rest after the arduous labors of this great and terrible day. Sad and solemn reflections possessed, at least, the writer of these papers.
Our dead lay unburied and beyond our sight or reach. Our wounded were in the hands of the enemy. Our bravest and best were numbered with them.
Of eighteen hundred men who marched with the splendid brigade in the morning, but seven hundred were here. More than one thousand men had been shot. There was to us a terrible reality in the figures which represent our loss. We had been driven, also, by the enemy, and the shadow of defeat seemed to be hanging over us.
View the Original Source Document
This document has been scanned.
How to Cite
For the purposes of a bibliography entry or footnote, follow this model:
Dawes, Rufus R. "Service With the Sixth Wisconsin Volunteers," Chapter 8, page 179.