Historical Essay
Lovers Unknowingly Write at the Same Moment
A Wisconsin Civil War Story
On July 4, 1863, Colonel Rufus Dawes of the 6th Wisconsin Infantry turns 25 years old during Battle of Gettysburg. He and his fiancé, Mary Dawes, write to each other about the day.
Enlarge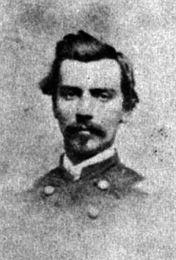 Portrait of R.R. Dawes
Enlarge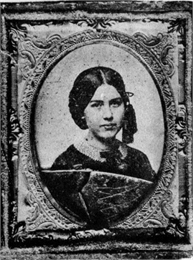 Portrait of Mary Gates
From Original Text (R.R. Dawes): "[Noon] I am entirely safe through the first three of these terrible days of this bloody struggle. The fighting has been the most desperate I ever saw. On July 1st, our corps was thrown in front, unsupported and almost annihilated. My regiment was detached from the brigade and we charged upon and captured the second Mississippi rebel regiment. … The Sixth [Wisconsin Infantry, which he commanded] has lost so far one hundred and sixty men. Since the first day we have lost only six. O, Mary, it is sad to look now at our shattered band of devoted men. Only four field officers in the brigade have escaped and I am one of them. I have no opportunity to say more now or to write to any one else. Tell mother I am safe. There is no chance to telegraph. God has been kind to me and I think he will yet spare me.
[6 p.m.] What a solemn birthday. My little band, now only two hundred men [of roughly 800 who left Wisconsin], have all been out burying the bloody corpses of friend and foe. No fighting today. Both armies need rest from the exhaustion of the desperate struggle. My boys until just now have had nothing to eat since yesterday morning. No regiment in the army or in any other army in the world ever did better service than ours."
From Original Text (Mary Gates): "Your birthday, and I have been all the time anticipating so much pleasure in writing to you to-day but it is only to-night that I have felt that I could write at all. It has seemed utterly impossible for me to write to you, not knowing you were where my letters could ever reach you or my prayers ever avail you. I feel that I can now—not that I think you are out of danger by any means—but I believe you will be spared. I shall not undertake to tell you how slowly and sorrowfully the last three days have dragged along. The first news we heard of the battle was that the first army corps was engaged and General Reynolds killed. About noon to-day I began to feel more hopeful that you had got through safely, but this afternoon we hear that the first corps is engaged again. When will they ever let you rest? From the papers, to-night, I conclude you came safely through Wednesday [July 1st] but your corps commander killed and your brigade commander wounded. I shall watch, oh, so anxiously, for tidings this week, praying that God in His mercy may spare you."
View the Original Source Document
This document has been scanned.
View the Original Source Document
This document has been scanned.
How to Cite
For the purposes of a bibliography entry or footnote, follow this model:
Dawes, Rufus R. "Service With the Sixth Wisconsin Volunteers," Chapter 7, page 159.