Historical Essay
Lice Outbreak Pesters Wisconsin Troops
A Wisconsin Civil War Story
On May 31, 1864, the 6th Infantry take advantage of the shade while encamped in Virginia to battle not enemy troops but body lice.
Enlarge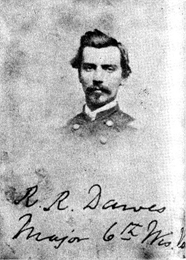 R. R. Dawes, Lieutenant Colonel
From Original Text: "The mud was half boot top deep and filled with the dead of the battle, over whom we stumbled in the darkness. Upon reaching my position I ordered the regiment to open fire.
The men had been for days in the sun and dust, and they now came into a shady woods. I established the regiment upon the left and rode toward the right, completing the establishment of the line. I then rode back to the left to see how the men were progressing in the construction of their breastwork.
I found them stripped of coats and shirts, and engaged in killing "gray backs," pediculus vestimenti. They said it was the first shade they had been in for a week, and they must improve their opportunity. This pest was a grievous trial, and it was assuming serious proportions in the army.
The only effective remedy was to boil the shirts. These garments being woolen shrunk under this process, so that the men could with difficulty get into them.
There was a law authorizing a field officer to frank letters for enlisted men thus: "Soldier's letter. — R. R. Dawes, Lieutenant Colonel sixth Wisconsin Veteran Volunteers." Once a man brought to me one of his shrunk up shirts in a package, to be franked by mail. He said he thought it would about fit the baby."
View the Original Source Document
This document has been scanned.
How to Cite
For the purposes of a bibliography entry or footnote, follow this model:
Dawes, Rufus R. "Service With the Sixth Wisconsin Volunteers," Chapter 7, page 280.