Historical Essay
Ojibwe Warriors Join the Battle of Spotsylvania
A Wisconsin Civil War Story
On May 9, 1864, Ojibwe Indians from the 7th Wisconsin Infantry help Colonel Rufus Dawes and his regiment, the 6th Wisconsin Infantry, drive back enemy skirmishers with American Indian war tactics in Spotsylvania, Virginia.
Enlarge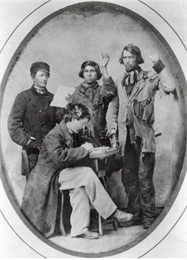 Swearing-In Native American Civil War Recruits, 1861
Thomas Bigford (in cap, on left) and another official swearing-in two Native American Civil War recruits. View the original source document: WHI 1909
Enlarge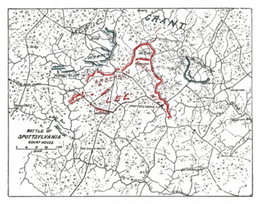 Map of Battle of Spotsylvania Court House, 1864
From Original Text: "Along the edge of timber skirting the open field we constructed a strong log breastwork, which may be called our base of operations during the five days of fighting at Laurel Hill.
This breastwork was in the valley. The rebel line of entrenchments was upon the hill-top. The skirmishers of each army occupied the tangled brush and woods between the lines, and they kept up, day and night, a ceaseless and deadly fire.
Our men in the entrenchments were constantly harassed by the fire of the enemy's sharpshooters, who were posted in trees or upon higher ground.
On the morning of May ninth a determined effort was made to drive back the enemy's skirmishers, and thirty men were ordered from the Sixth for this service. . .
The Indians of the seventh Wisconsin regiment took an active part in this skirmishing. They covered their bodies very ingeniously with pine boughs to conceal themselves in the woods.
When skirmishers advanced from our lines, they would run across the open field at the top of their speed, and numbers of them were shot while doing so.
Upon this run the Indians would give a shout or war whoop."
View the Original Source Document
This document has been scanned.
How to Cite
For the purposes of a bibliography entry or footnote, follow this model:
Dawes, Rufus R. "Service With the Sixth Wisconsin Volunteers," Chapter 12, Page 265.