Historical Essay
Abraham Lincoln Inspects Wisconsin's Underwear
A Wisconsin Civil War Story
President Lincoln visited Wisconsin's 2nd Infantry two days after the humiliating Union defeat at Bull Run on July 21, 1861. Captain Gabriel Bouck of Oshkosh demonstrates the urgent need for better clothing and supplies.
Enlarge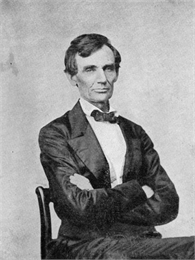 Abraham Lincoln, 1860
Springfield, Illinois. View the original source document: WHI 23659
Enlarge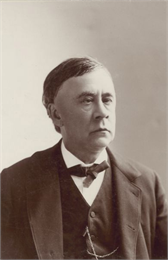 Gabriel Bouck
Milwaukee, Wisconsin. View the original source document: WHI 59453
From Original Text: "A few days after the battle and before the regiment had got out of its difficulties in the way of reorganization, President Lincoln, Secretary of State Wm. H. Seward and Gov. Randall visited camp.
From the carriage the president and secretary made speeches, encouraging the men and promising both arms and clothing.
Captain Gabe Bouck, standing nearby took a private soldier, turned him around and exposed the rent in his breeches from which protruded the flag of truce [white underwear], and called the president's attention to the predicament the men were in, saying:
"Lincoln, look here. Here is a specimen of a soldier, give us good guns and respectable clothing and there will be no trouble."
He also showed the president the muskets.
The distinguished visitor promised to see the regiment healed."
View the Original Source Document
This document has been scanned.
How to Cite
For the purposes of a bibliography entry or footnote, follow this model:
Aubery, Cullen B. "Echoes from the marches of the famous Iron Brigade : unwritten stories of that famous organization," page 11.