Historical Essay
Incompetent Doctor Hides from Bullets
A Wisconsin Civil War Story
On May 3, 1863, near Chancellorsville, Virginia, the 2nd Wisconsin Infantry is troubled by a new assistant surgeon with questionable skills.
Enlarge
Camp of the 2nd Wisconsin
Virginia. A group of people at the headquarters tent of the 2nd Wisconsin Infantry. View the original source document:
WHI 33489
Enlarge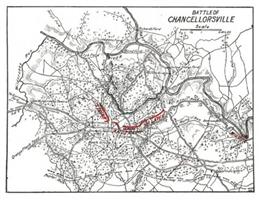 Map of the Battle of Chancellorsville
From Original Text: "An incident occurred here which is a story worth relating.
"The Second had a new second assistant surgeon. This battle was the first of his experience. On the fourth several of the men were complaining, and he was the doctor detailed to remain with the command.
"Search was made for him; after some time he was found, having burroughed a hole at a safe distance and thrown up breast-works to be safe from the storm of small shot dropping promiscuously about the vicinity of the command.
"He was urged out from a safe retreat, and trembling appeared before the company with his German silver bottle full of sugar-coated pills.
"As he passed along he cried out, 'Any sick here?' and the men would step out.
"When coming up to one he said: "What's the matter of you?"
View the Original Source Document
This document has been scanned.
How to Cite
For the purposes of a bibliography entry or footnote, follow this model:
Aubery, Cullen B. "Echoes from the marches of the famous Iron Brigade : unwritten stories of that famous organization," page 34.