Historical Essay
Irish Private Snuffs Out Artillery Shell
A Wisconsin Civil War Story
During the Battle of Gettysburg, July 1-3, 1863, an Irishman of Company D, the 6th Wisconsin Infantry, casually extinguishes a burning fuse that lands among the troops.
Enlarge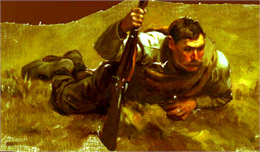 Civil War Soldier on the Ground, 1886
Oil painting of a Confederate Civil War soldier on the ground holding a rifle, created as a preliminary study for the Cyclorama of the Battle of Gettysburg. View the original source document: WHI 78369
From Original Text: "An Irishman in Co. D of the Sixth when lying on the ground at the battle of Gettysburg happened to look up and saw a fuse shell coming along, bounding on the ground, fuse still burning. The boys around him began to scatter, making ready for the results, when he scraped up some mud from the ground and with this expression, "Boys, ten to one it don't bust," put out the fuse by throwing the mud upon it. Was that bravery?"
View the Original Source Document
This document has been scanned.
How to Cite
For the purposes of a bibliography entry or footnote, follow this model:
Aubery, Cullen B. "Echoes from the marches of the famous Iron Brigade: unwritten stories of that famous organization," page 50.