Historical Essay
Tattered Uniforms Give a Regiment its Nickname
A Wisconsin Civil War Story
At the beginning of the war, the Union government supplied troops with cheap uniforms that wore out quickly. The exposed underwear of the 2nd Wisconsin Infantry prompts a polite suggestion from a little girl.
Enlarge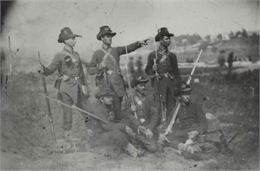 Iron Brigade Soldiers
A unit comprised of soldiers from Wisconsin, Indiana, and Michigan that was known for its determined fighting ability. View the original source document: WHI 41960
From Original Text: "The Second Wisconsin was called The Ragged Asstetical [Aesthetical]. This more from the fact that the government contractors had run short of good material when they made the pantaloons for that regiment, allowing their flag of truce [white underwear] always to be kept in their rear, and a half-abandoned delight all to appear in uniform prevailed among them.
Once when on review they were drawn up for inspection in their usual ragged pants when the general's carriage with his little daughter stood directly behind them. Presently she said, "Pa, wouldn't it be just as well if our carriage stood in front of the regiment?"
View the Original Source Document
This document has been scanned.
How to Cite
For the purposes of a bibliography entry or footnote, follow this model:
Aubery, Cullen B. "Echoes from the marches of the famous Iron Brigade : unwritten stories of that famous organization," page 50.