Historical Essay
Regiment Marches into First Battle Playing Music
A Wisconsin Civil War Story
While entering Fredericksburg, Maryland, in December 1862, the 24th Michigan Infantry proudly marches with Wisconsin's 6th Infantry in dense fog into its first combat playing music. As the fog lifts, they get a sudden shock.
Enlarge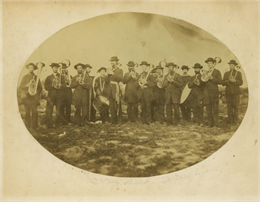 2nd Wisconsin Infantry Band, 1861
View the original source document: WHI 33525
From Original Text: "The Iron Brigade, when crossing over into Fredericksburg, were hidden by a dense fog from the enemy.
One of the regiments, the Twenty-fourth Michigan, who were to receive their first baptism under fire, were marching in front of the old Sixth veterans, colors flying, the band playing its favorite tune, "The Village Quickstep," when, alas! the sun appeared; the fog lifted and the trained guns of a half dozen rebel batteries opened their work of destruction.
Almost the first shell landed in the midst of the band and scattered them right and left. Those who survived beat a hasty retreat to the sheltering banks of the river.
Brave Col. Morrow kept his gallant regiment well in hand, shouting, "Steady, men, those Wisconsin men are watching you."
I don't remember seeing that band in any other battle their regiment ever participated in."
View the Original Source Document
This document has been scanned.
How to Cite
For the purposes of a bibliography entry or footnote, follow this model:
Aubery, Cullen B. "Echoes from the marches of the famous Iron Brigade : unwritten stories of that famous organization," page 51.