Historical Essay
Lost Soldier Seeks Help from Confederate Civilian
A Wisconsin Civil War Story
On the march toward Antietam, Maryland, a soldier from the 7th Wisconsin Infantry gets separated from his regiment and asks a local civilian for directions.
Enlarge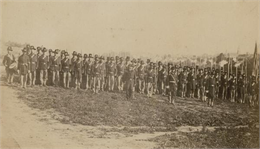 The Iron Brigade, 1862.
The 7th was one of three Wisconsin regiments that was part of the famed Iron Brigade. View the original source document: WHI 4978
From Original Text: "When the Iron Brigade was on the march toward Antietam, a tall fellow of the Huckleberry regiment [7th Infantry] got separated from it and was trudging along to overtake it.
Coming to a crossing he was puzzled as to which road to take, but on seeing one of the natives his countenance lighted up at the prospect of obtaining the desired information.
"Where does this road lead to?"
"To hell," was the surly answer of the native.
"Well," drawled out the Vermont Yankee, "judging by the lay of the land and the appearance of the inhabitants, I kalkerlate I'm most there."
View the Original Source Document
This document has been scanned.
How to Cite
For the purposes of a bibliography entry or footnote, follow this model:
Aubery, Cullen B. "Echoes from the marches of the famous Iron Brigade : unwritten stories of that famous organization," page 51.