Historical Essay
Fairchild, Col. Cassius (1829–1868)
Wisconsin Civil War Officer, U.S. Marshall, Business Owner
b. Franklin Mills (now Kent), Ohio, December 16, 1829
d. Milwaukee, Wisconsin, October 24, 1868
Cassius Fairchild was a Wisconsin soldier and political figure best-remembered for his military service during the Civil War.
Enlarge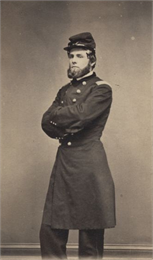 Cassius Fairchild, 1865
View the original source document: WHI 70235
Enlarge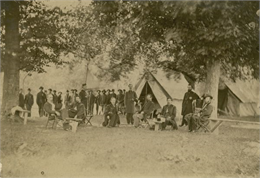 Headquarters of the 16th Wisconsin Infantry, 1860s ca.
The headquarters camp and officers of the 16th Wisconsin Volunteer Infantry in Tennessee. The officer seated on the far right is thought to be Cassius Fairchild, who entered the war as a major and was promoted to colonel in March, 1864. View the original source document: WHI 33528
Businessman
Cassius Fairchild was the brother of Wisconsin Governor Lucius Fairchild. He was born in Ohio in 1829 and came to Madison with his family as a teenager in 1846. He attended Waukesha Academy (Carroll College) and became active in politics. In 1859 Fairchild was chairman of the Wisconsin Democratic Party and he served as a state assemblyman in 1860. From 1859-1861 he also managed the Fairchild family business interests in lumbering and real estate.
Civil War Service
When war broke out, Fairchild was a member of the Governor's Guard, a local militia. He was commissioned major in the 16th Wisconsin Infantry in October, 1861, and promoted that fall to lieutenant colonel. His regiment left for the South on March 18, 1862. Three weeks later, Fairchild was commanding new recruits at the Battle of Shiloh. On the first day of battle, April 6, 1862, he was shot in the thigh and had to leave the field. He spent the next year in Madison undergoing surgery and recovering slowly from the wound.
Fairchild returned to his regiment in May 1863 in time to participate in the Siege of Vicksburg, but his injury limited his role. He took part in the capture of Vicksburg in the summer of 1863 and the subsequent Union advance through the South.
He was made colonel of his regiment on March 17, 1864, and led it through the battles of Kennesaw Mountain and Atlanta, and Sherman's March to the Sea in 1864. He was brevetted a brigadier general on March 13, 1865, and was mustered out six weeks later.
Postwar Years
Fairchild returned home to Wisconsin a broken man. In 1866 he was appointed U.S. Marshal for Wisconsin, headquartered in Milwaukee. He died at age 39, on October 24, 1868, of complications from the wound he had received at Shiloh.
Links to Learn More
by E. B. Quiner in his book, "Military History of Wisconsin" (Chicago, 1866)
[Source: Dictionary of Wisconsin Biography (Madison, 1965); Milwaukee Sentinel, Oct. 26, 1868; Wisconsin State Journal, October 24, 1868; Wisconsin Magazine of History 10: E.B.Quiner, The Military History of Wisconsin (Madison, 1866): 632-643.]