Historical Essay
Fairchild, Gov. Lucius (1831-1896)
Wisconsin Civil War Officer, Three-Term Wisconsin Governor, U.S. Diplomat
b. Franklin Mills (now Kent), Ohio, December 27, 1831
d. Madison, Wisconsin, May 23, 1896
Lucius Fairchild is remembered as a colonel in the Iron Brigade, as Wisconsin's 10th governor from 1866-1872, and as a U.S. diplomat during the late 19th century.
Enlarge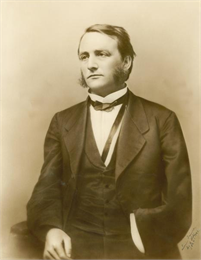 Lucius Fairchild, 1870
View the original source document: WHI 6601
Early Life
Lucius Fairchild came to Madison, Wisconsin, with his parents in 1846. Three years later, at age 18, he followed the Gold Rush to California, remaining there until 1855. He returned to Madison, studied law, and was admitted to the Wisconsin bar in 1860.
Civil War Service
Five days after the Confederates attacked on Fort Sumter on April 12, 1861, Fairchild was appointed captain of Co. K of the 1st Wisconsin Regiment. After three months of service around Washington, D.C., the regiment was disbanded. Fairchild accepted the appointment as a major in the 2nd Wisconsin Infantry and immediately rose to lieutenant colonel. A year later, on August 30, 1862, he was named colonel of the regiment known as Iron Brigade, just as it entered its fiercest battles.
Fairchild commanded troops in several of these battles, including Second Bull Run, Antietam, Chancellorsville, and Gettysburg. At Gettysburg, while he was leading a charge up Seminary Hill on July 1, 1863, he was hit by a ball that shattered his left arm, which had to be amputated. Shortly before he was mustered out of service, he was promoted to brigadier general.
Political and Diplomatic Career
After returning to Madison, Fairchild served as Wisconsin Secretary of State from 1864-1866. In 1865 he was elected governor and served three successive terms, from 1866-1872. Although his administration was largely concerned with routine business matters, Fairchild was active in promoting soldiers' aid and state institutions; and in pressing for a commission to study the railroad problem. Toward the end of his term he was active in relief measures aiding victims of the Peshtigo fire.
At the close of his terms as governor, Fairchild was appointed U.S. consul at Liverpool from 1872-1878, consul-general in Paris from 1878-1880, and U.S. ambassador to Spain from 1880-1882. Returning to Wisconsin in 1882, his name was floated as a possible presidential or vice-presidential candidate in 1884 but his defeat for U.S. Senator in 1885 effectively ended his political career.
Final Years
Fairchild devoted his last decade to veterans' affairs. He was state and national commander of the Grand Army of the Republic, 1886-1887, and was national commander of the Military Order of the Loyal Legion from 1893-1895. He died on May 23, 1896, at his home in Madison.
Links to Learn More
In the Milwaukee Weekly Wisconsin, May 30, 1896
Wisconsin Magazine of History, vol. 60. no.2 (1976)
During the Civil War
[Source: Dictionary of Wisconsin Biography; Dictionary of American Biography; Weekly Wisconsin, May 30, 1896; Wisconsin Magazine of History, vol. 60. no.2 (1976): 82-108; Love, William D. Wisconsin in the War of the Rebellion (Madison, 1866)]