Historical Essay
Atlanta Campaign
Civil War Battle Summary
Enlarge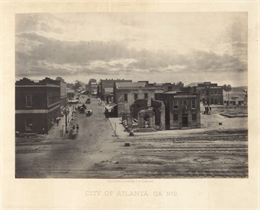 City of Atlanta, 1866.
Elevated view of commercial area of the city, taken after General Sherman marched through Atlanta. Most of the buildings appear to be intact, but one of the buildings in the foreground is badly damaged. View the original source document: WHI 78961
Enlarge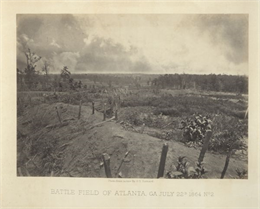 Battlefield of Atlanta, 1864.
An empty battlefield near Atlanta, Georgia, with posts sticking out from an earthworks in the foreground. View the original source document: WHI 78975
Date(s): May 7- September 2, 1864
Location: Atlanta, Georgia (Google Map)
Other name(s): Individual battles during this campaign included Resaca, Dallas, Kennesaw Mountain, Peach Tree Creek, and Atlanta
Campaign: Atlanta Campaign (May-September 1864)
Outcome: Union victory
Summary
Atlanta, Georgia, was the center of Confederate industry and transportation. By seizing it the Union crippled the Confederacy's ability to wage war.
The Atlanta Campaign began on May 7, 1864, and lasted until Union forces took possession of the city on September 2. Over the course of the summer more than 66,000 soldiers were killed, wounded, or captured, with losses roughly equal on each side.
Confederate troops abandoned Atlanta on September 2, 1864. For the next two months Union forces shipped everything valuable out of the city. In early November they burned all its factories, warehouses, and railroad depots, as well as many of its private homes and businesses. With Atlanta destroyed, the Confederacy was unable to manufacture weapons and ammunition or ship food and supplies to win the war.
Wisconsin's Role
Twenty Wisconsin regiments fought in and around Atlanta during the summer of 1864. Major battles in which Wisconsin troops participated were Resaca (May 13–15), Dallas (May 25 – June 1), Kennesaw Mountain (June 27), Peach Tree Creek (July 20), and Atlanta (July 22).
Links to Learn More
[Source: Report on the Nation's Civil War Battlefields (Washington, 1993); Estabrook, C. Records and Sketches of Military Organizations (Madison, 1914); Love, W. Wisconsin in the War of the Rebellion (Madison, 1866).]