Historical Essay
Confederate Guerillas Butcher Wisconsin Soldiers in Kansas
A Wisconsin Civil War Story
When the Civil War erupted, proslavery guerilla warfare had already been going on for several years in "Bloody Kansas." One of the most notorious guerilla leaders was William Quantrill who became a Confederate captain in 1862. At a 1905 Civil War reunion, a member of the 3rd Wisconsin Cavalry recalls the horrific massacre of his unit on October 6, 1863, by the rogue Quantrill and his raiders who were disguised in Federal uniforms.
Enlarge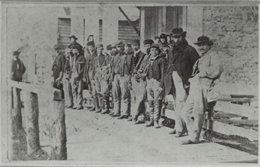 General Blunt's Headquarter Band
The massacred musicians before the attack. View the original source document: WHI 33526
Enlarge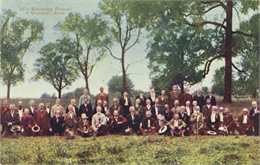 Quantrell's Band
Quantrill's men in later life. View the original source document: WHI 72305
From Original Text: "When near Baxter Springs on Sept. [Oct.] 6, a body of troops in federal uniform was seen forming near the edge of a woods a fourth a mile away. They were supposed to be a battalion of Union men sent out several days before to scout and clear the road to Fort Gibson. As we emerged from a woods, Capt. Tufft came galloping back and reported to General Blunt that the body of men, some 600 strong, was Quantrell [sic] and his gang in federal uniform, and that he had been close enough to recognize Quantrell. By this time the lines were getting near each other and Quantrell's men began firing…
It became such a mix-up that it was hand to hand and no time to re-load… Of the 90 men we had in the fight, 54 were killed outright, 18 wounded, and 5 missing. There were 13 of us left. When General Blunt and the two men who escaped with him returned to care for the wounded, they met a sight too terrible to describe.
Amongst the killed were the brigade band — 11 men. Several of them had been pinioned to the band wagon by swords driven through them while still alive and the wagon then set afire. Among these served in this way were T.L. Davis, of Platteville, and Johnny Fritz a 15-year-old drummer boy; a sword had been driven through his thigh and then into the woodwork of the wagon…"
View the Original Source Document
This document has been scanned.
How to Cite
For the purposes of a bibliography entry or footnote, follow this model:
"Newspaper Clippings, 1861-1930," Vol. 1, page 84 (from the Milwaukee Free Press, Sept. 17, 1905).