General Information
Local History - Historic Preservation Annual Conference
2018 Annual Conference
Twelfth Annual Local History and Historic Preservation Conference
Mark your calendar for the 2018 conference at the Osthoff Resort in Elkhart Lake on October 26-27. You can join over 400 colleagues to exchange ideas, celebrate successes, and plan for the future of local history and historic preservation in Wisconsin. Bookmark this website for the latest conference details as they become available this spring.
Conference Program Updates
We are pleased to announce that our opening keynote speaker will be Christian Øverland, the new Ruth andHartley Barker Director. Join us for a special welcome reception for Christian on Friday afternoon. Session and workshop topics include fund-raising, educational programs, historic preservation advocacy, maritime archaeology, archives management, oral history, and much more.
Hotel Reservations Now Available!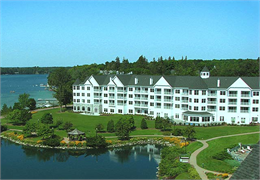 Osthoff Resort and Conference Center
The Osthoff Resort and Conference Center in Elkhart Lake, Wisconsin
You are now able to make reservations at the Osthoff Resort for Thursday, Friday, or Saturday nights. The Osthoff Resort offers one bedroom suites for $82 per night. For those who want to share accommodations, they also offer two bedroom lofts for $82 per night or two bedroom suites for $164 per night.
Please follow these directions to make sure you receive the discounted conference rate.
Online reservations: This is the preferred method to book your hotel room. Online reservations will NOT be required to make a one-night deposit. Go to www.osthoff.com/meetings and click "To make your individual Group reservations" at the bottom of the screen. When prompted, use GWIHISTO for Group ID and WHS for password.
Phone reservations: Please call 800-876-3399 and press prompt #1. State that you are with the Wisconsin Historical Society and an agent will book the reservation at the conference rate. Due to resort policy, you may be required to make a one-night deposit at the time of a phone booking to reserve a room.
SAVE THE DATE FOR FUTURE CONFERENCES
October 25 - 26, 2019 at the Grand Geneva Resort in Lake Geneva
October 30 - 31, 2020 at the Central Wisconsin Convention Center in Rothschild
Learn More
Resources for Local Historical Societies
Have Questions?
Contact the Northern Representative:
Janet Seymour
Phone: 715-836-2250
janet.seymour@wisconsinhistory.org
Contact the Southern Representative:
Richard Bernstein
Phone: 608-264-6583
rick.bernstein@wisconsinhistory.org
Save
Save
Save
Save
Save
Save
Save
Save
Save
Save
Save
Save
Save
Save
Save
Save
Save
Save
Save
Save
Save
Save
Save
Save
Save
Save
Save
Save
Save
Save
Save
Save
Save
Save
Save
Save
Save
Save
Save
Save
Save
Save
Save
Save
Save
Save
Save
Save
Save
Save
Save
Save
Save
Save
Save
Save
Save
Save
Save
Save
Save
Save
Save
Save
Save
Save
Save
Save
Save
Save
Save
Save
Save
Save
Save
Save
Save
Save
Save
Save
Save
Save
Save
Save
Save
Save
Save
Save
Save
Save
Save
Save
Save
Save
Save
Save
Save
Save
Save
Save
Save
Save
Save
Save
Save
Save
Save
Save
Save
Save
Save
Save
Save
Save
Save
Save
Save
Save
Save
Save
Save
Save
Save
Save
Save
Save
Save
Save
Save
Save
Save
Save
Save
Save
Save
Save
Save
Save
Save
Save
Save
Save
Save
Save
Save
Save
Save
Save
Save
Save
Save
Save
Save