General Information
Local History - Historic Preservation Conference
2021 Annual Conference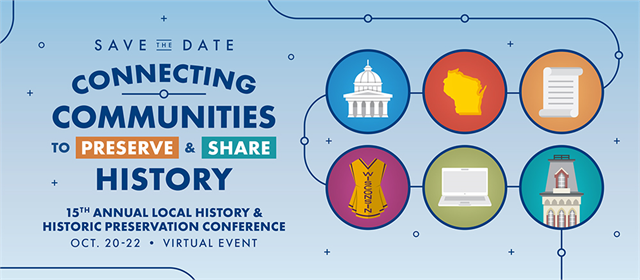 Conference Registration is Open!
The registration fee is $50 and includes access to our plenary sessions, six workshops, and 24 sessions. Members of the Wisconsin Historical Society are eligible for a 10% discount. If you are not yet a member, you may join at wisconsinhistory.org/membership. Attendees will also receive access to recordings of all conference events for a limited time after the event to view sessions that you missed or revisit topics that you enjoyed. Don't delay— the registration deadline is October 18. For any registration questions, contact us at lhhpconference@wisconsinhistory.org or 608-264-6579
Learn More About the Conference
Explore the speakers, events, and schedule in this comprehensive brochure.
Keynote Speakers


We are thrilled to host three keynote speakers who will bring attendees new perspectives on storytelling and connecting with your community: B.J. Hollars, Angela Fitzgerald, and Emily Graslie.
B.J. Hollars
Hope is the Thing: Wisconsinites on Perseverance in a Pandemic
In March 2020, as a pandemic began to ravage our world, writer and professor B. J. Hollars started a collaborative writing project to bridge the emotional challenges created by our physical distancing. Drawing upon Emily Dickinson's famous poem "'Hope' is the thing with feathers," Hollars called on Wisconsinites to reflect on their own glimpses of hope in the era of COVID-19. The result is an exploration of the depth and range of hope experienced in times of crisis, as well as an important record of what Wisconsinites were facing and feeling through these historic times.
Join B.J. Hollars for an engaging overview of the book's essays and poems that demonstrates hope comes in many forms: a dad dance, a birth plan, an unblemished banana, a visit from a neighborhood dog, the revival of an old tradition, empathy. Contributors Jim Alf, Dr. Margaret Rozga, and Curt Meine will join the discussion to share their contributions to Hope is the Thing and their experiences of joining this statewide collaborative effort.
Angela Fitzgerald
Wisconsin Life: Sharing Stories From Our State
Angela Fitzgerald will delve into her journey to share stories highlighting the diverse array of experiences and people found throughout our state.
Angela Fitzgerald is the host of Wisconsin Life on PBS Wisconsin. In addition to her work hosting the television series, Angela is the creator, producer, and host of Why Race Matters, a digital series on PBS Wisconsin. She has dedicated her extensive education and career to leadership, community engagement, and creating opportunities for others. Angela is currently the Director of Family, Youth & Community Engagement for the Madison Metropolitan School District. She is also pursuing her Ph.D. at the University of Wisconsin-Madison, where she is studying the intersection between education, organizing, and research as it relates to improving outcomes for historically marginalized groups.
Emily Graslie
The Power of Curiosity
Join science communicator, video host, and educational media producer Emily Graslie for a presentation that will inspire innovative ideas to engage with audiences and spark our curiosity for learning.
Following her curiosity has taken Emily Graslie everywhere from deep into the bat caves of Kenya to exploring the wonder within our own backyards. She will share her journey as a science communicator on YouTube and how that experience led her to becoming a trailblazer for PBS on Prehistoric Road Trip.
From 2013 to 2020, Graslie worked as the first-ever Chief Curiosity Correspondent for the Field Museum in Chicago, creating more than 200 episodes for The Brain Scoop, a natural history-themed YouTube channel whose videos have been viewed tens of millions of times. Her media productions and storytelling adventures have taken her and her viewers through both space and time, from deep into the bat caves of Kenya to the remote Peruvian Amazon jungle — and from the Cambrian through the Cretaceous by means of geologic and fossil formations across the United States. In 2020, she made her broadcast television debut on PBS in "Prehistoric Road Trip," an original three-part series exploring the paleontology and natural history of the Dakotas, Montana, and Wyoming.
---
SAVE THE DATE FOR FUTURE CONFERENCES
October 19 - 21, 2023, at the La Crosse Center in La Crosse
Have Questions?
Contact us at lhhpconference@wisconsinhistory.org.
Learn More
Preserve Your Homes and Properties