Historical Essay
'Old Abe' the Eagle Accompanies the 8th Wisconsin Infantry into War
A Wisconsin Civil War Story
Sergeant Major George Driggs of Company E, 8th Wisconsin Infantry, published a memoir in 1864 while the war was still raging. In this passage, the Fond du Lac native introduces readers to the regiment's mascot and most famous member.
Enlarge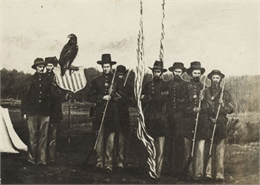 Old Abe and His Regiment Color Guard, 1863
Vicksburg, Mississippi. Photograph of a monochrome painting of "Old Abe" the bald eagle mascot of the Eighth Regiment, Wisconsin Volunteer Infantry, and his regiment color guard. View the original source document: WHI 78934
From Original Text: "'Old Abe' is the name given to the "Live Eagle" carried by the Eighth Regiment Wisconsin Veteran Volunteers. He was originally taken from his nest in the northern part of Chippewa County, Wisconsin, by a Chippewa Indian, when about two weeks old, and brought to Eau Claire as an object of interest and curiosity, where he was purchased, for a small sum, by the "Eau Claire Badgers," now Company C of this regiment, on the eve of departure for their regiment at Madison... A perch was built for him of shield shape, with the stars and stripes painted thereon, to which he is attached by a small rope, giving him liberty of his limbs and wings for a distance of several yards…
The regiment has become so attached to him, by his long habitation with us, that, rather than lose him, or see him fall into the hands of the enemy, every man would spend his last cartridge in his defence. [Confederate] General [Sterling] Price has been said to declare that he would rather "capture that bird than a whole brigade."
The eagle's exploits during the battles of Corinth, the 3d and 4th of October, 1862, have no doubt been greatly exaggerated, and the author aims at nothing more than a simple statement of facts. The string that held him to his perch was undoubtedly cut by a Minnie ball from the enemy; he did soar aloft over the heads of the belligerents, and others say he returned with the cap of some unfortunate secesh in his beak.
Old women, resume your knitting — politicians your wire-pulling — loungers your daily avocations, and ardent "luvyers," who have "heart sweets" in the army, do not let these airy sensation articles deceive you, but trust in an Over-ruling Providence, that he, in whom your dearest affections are centred, is doing his duty to his country, and will some day return to you bearing laurels…"
View the Original Source Document
This document has been scanned.
How to Cite
For the purposes of a bibliography entry or footnote, follow this model:
Driggs, George W. "Opening of the Mississippi." (Madison, Wis.: W.J. Park & Co., 1864), page 37.