Historical Essay
McCormick, Cyrus Hall (1809-1884)
Brief biography of Cyrus Hall McCormick
b. Walnut Grove, Virginia, February 15, 1809
d. Chicago, Illinois, May 13, 1884
Enlarge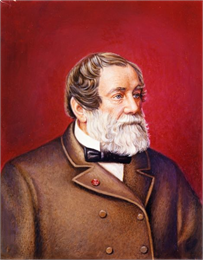 Cyrus Hall McCormick View the original source document: WHI 8499
Cyrus H. McCormick (1809-1884) was an industrialist and inventor of the first commercially successful reaper, a horse-drawn machine to harvest wheat. He was born at the family farm called Walnut Grove in Rockbridge County, Virginia, on February 15, 1809.
His father, Robert McCormick, experimented with a design for a mechanical reaper from around the time of Cyrus' birth. In 1831 he abandoned the idea and turned the work over to his son. Cyrus made several changes to his father's design and successfully demonstrated his reaper at Steele's Tavern, Virginia, in July 1831. After a few additional modifications, he patented the invention in 1834.
During the 1840s Cyrus and his family manufactured and sold reapers out the blacksmith shop at Walnut Grove. Cyrus also made several trips to the Midwest, demonstrating his reaper and attempting to contract with local manufacturers. By the end of 1846, however, he had sold fewer than 100 machines.
In 1847 he moved to Chicago and formed what eventually became known as the McCormick Harvesting Machine Company. There, McCormick developed innovative marketing and distribution techniques that helped make his company a success. He also benefited from the growth of Chicago as an industrial center and rail hub. By 1858 the company was the largest farm equipment manufacturer in the United States, with assets totaling more than $1 million dollars.
In January 1858 McCormick married Nettie Fowler and began to spend more time away from Chicago. He also became more active in Presbyterian causes and Democratic politics. In 1859 he formed a partnership with his brothers William and Leander to form C.H. McCormick & Bros. William handled the company's finances, and Leander oversaw manufacturing. In 1871 the company's factory was completely destroyed in the Great Chicago Fire. McCormick built a new factory with increased capacity and began to pursue overseas markets in earnest. By the early 1880s, the company had expanded into markets as far away as Russia and New Zealand.
Cyrus Hall McCormick died on May 13, 1884.
His son, Cyrus Jr., went on to become president of the McCormick Harvesting Machine Company. Throughout the 1880s and 1890s the company retained its position as the leading agricultural equipment manufacturer, however it found itself increasingly challenged by competitors in a somewhat depressed market. The company's chief rival was the Deering Harvester Company. By 1900 McCormick and Deering were nearly equal in sales.
In 1902 the two companies merged to form the International Harvester Company. Three other rivals joined the merger: the Plano Manufacturing Company, the Milwaukee Harvester Company, and Warder, Bushnell and Glessner. Cyrus McCormick's sons, Cyrus, Jr. and Harold Fowler McCormick, presided over the new company during its first 40 years.
For more information on the McCormick family, see the selected bibliography.
Have Questions?
Contact the McCormick Reference Line by phone at 608-264-6410 or by email below:
askmccormick@wisconsinhistory.org