General Information
Current Issue of the Wisconsin Magazine of History
Summer 2022, Volume 105, Number 4
Enlarge
Cover Photo
Vicky Benzing flies a maneuver in her vintage Stearman biplane during the afternoon air show at EAA AirVenture Oshkosh 2021. PHOTO BY CAMDEN THRASHER, COURTESY OF EAA
Featured Story
The Little Fly-In That Could: How Oshkosh Landed the Largest Annual Aviation Event in the World
By William Povletich
The Experimental Aircraft Association (EAA) has hosted its annual fly-in convention, now known as the AirVenture, in Oshkosh since 1970. The week-long event has drawn astronauts, decorated fighter pilots, Hollywood stars, NASA engineers and just about every type of aircraft imaginable. Though the Oshkosh airshow is now an institution, the EAA's journey to Oshkosh was far from a smooth flight: a flight that began in one man's basement in the winter of 1953. William Povletich tells the tale of Paul Poberezny, whose lifelong love of flying small aircraft led him to found the EAA and its world-famous Fly-In.
---
Enlarge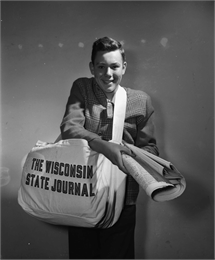 Extra! Extra! Read All about It!
For decades, serving as a newspaper carrier was a highly sought-after job. In the mid-1940s, photographer Arthur Vinje took a series of photos featuring carriers like this one, name unknown, for the Wisconsin State Journal.
Extra! Extra! Delivering the Paper on D-Day
By W. Lee Hansen
In the 1940s, W. Lee Hansen was one of dozens of boys who delivered the Racine Journal-Times to readers. When June 6, 1944 came around, he was called on to deliver four "extras" as the headlines of the D-Day invasion emerged.
---
Enlarge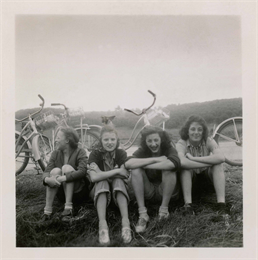 A Welcome Break
Snapshots of bike hosteling trips from Madison, such as this one from summer 1940, fill the Neighborhood House scrapbook. WHI IMAGE ID 95522
The Pedal Pushers: Bike Hosteling from Neighborhood House
By Sara E. Phillips
It was the summer of 1940, and while many Americans' minds were fixed on the war unfolding in Europe, several groups of Madison youth exchanged the torpor of city living for a few days of bike hosteling in the countryside. For many, it was their first experience of life outside the urban grid; for some, it was the first time they'd ridden a bicycle. In this issue, we share the story behind these hosteling trips with Neighborhood House, the organization that sponsored them, along with a selection of entries from a playful scrapbook recounting the trips held in the Wisconsin Historical Society Archives.
---
A subscription to the Wisconsin Magazine of History is a benefit of membership to the Wisconsin Historical Society. The current issue, described above, will become available in the online archives as soon the next issue is published.
Become a Wisconsin Historical Society member today!
Subscribe today by becoming a member
Learn More: