General Information
Standards for Use with 'Wisconsin: Our State, Our Story'
Common Core Standards for English Language Arts and Wisconsin Model Academic Standards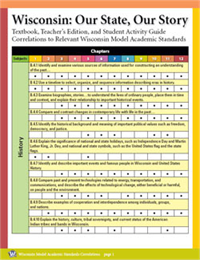 Standards Correlation Chart
Correlation documents are available for download that describe how the first and second editions of the student textbook, teacher's edition and student activity guide correlates to Common Core Standards for English Language Arts and relevant 4th grade Wisconsin Model Academic Standards.
The textbook aligns with these subjects:
History
Geography
Behavioral Science
Economics
Political Science
Language Arts
Math
Art
Learn More
This definitive Wisconsin history textbook from the Wisconsin Historical Society is full color, visually stunning, and promotes strong literacy skills.
Have Questions?
Contact our helpful staff about implementing the textbook in your classroom.